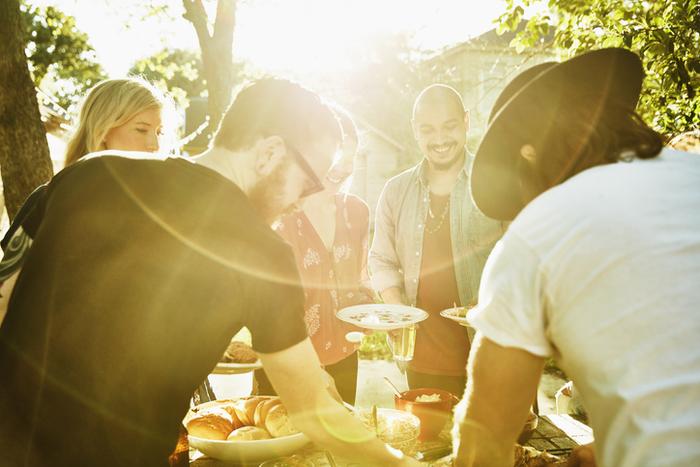 For many Americans, Memorial Day Weekend serves as the official kickoff to summer, which usually means gathering your friends and family for a barbecue. 
While costs of all the major essentials continue to creep up, Walmart and Kroger have announced efforts to keep party supplies cost-friendly for consumers this Memorial Day. 
"As families come together in tribute on this day of remembrance, we join our customers in honoring our heroes, and we are here to make their gathering extra special with holiday staples that are affordable, fresh, and delicious," said Rodney McMullen, Kroger's chairman and CEO. 
Walmart's BBQ sale will get you through July 4
Between now and July 15, Walmart is offering shoppers discounts on everything barbecue-related – and the prices are actually lower than last year. 
Shoppers can get everything they need for a barbecue in one of Walmart's summer grilling baskets. They include everything – hot dogs, hamburgers, buns, lettuce, tomato, cheese, ketchup, pasta and potato salad, corn on the cob, drinks, chips, dessert, and more. 
The price to serve 12 people comes to $6.15 per person, or a total of $73.76. Whether you're hosting for Memorial Day, Father's Day, July 4, or any weekend in between, there are deals on all the summer barbecue necessities.
If you're in need of a grill or new briquettes before the start of the summer, Walmart is also offering sales on those: 
Expert Grill's 14.5'' Portable Charcoal Grill: $14.97 ($3 savings)

Blackstone's 2-Burner 28" Griddle with Air Fryer: $447 ($50 savings) 

12 lbs of Instant Charcoal Briquettes from Expert Grill: $6.97 (Originally $7.88)

16 lbs of Kingsford Original Charcoal Briquettes (two-pack): $17.92 ($2 savings)
All items and sales are available in-store, online, or with curbside or in-store pickup. 
Choose your budget at Kroger  
Ahead of Memorial Day, Kroger is offering three tiers of menus for consumers looking to stock up for their barbecues: the red menu ($5 per person), the white menu ($7.50 per person), and the blue menu ($10 per person). Each menu comes with options for grilling, sides, and snacks, with the option to also add on a s'mores kit for dessert. 
With the red menu, shoppers get Kroger-brand quarter pound burgers and Nathan's hotdogs, hotdog and hamburger buns, Colby Jack cheese slices, tomato, southwest chopped salad kit, cole slaw, strawberries, and party size cheddar and sour cream potato chips. 
The white menu offers St. Louis-style pork spare ribs, boneless and skinless chicken breast marinated in applewood smoked honey maple BBQ, corn on the cob, sweet kale chopped salad kit, southern-style potato salad, watermelon, party-size wavy potato chips. 
Lastly, the blue menu includes Private Select Angus Beef Boneless flank steak marinated in steak marinade, frozen cooked shrimp and kebabs made with yellow squash, onions, bell peppers, zucchini, sliced baby bella mushrooms, ultimate caesar salad kit, cole slaw, and party size sweet and mesquite BBQ potato chips. 
Kroger is also offering a $9 bundle for a full s'mores kit, plus other deals on barbecue essentials, like propane tanks, sunblock, briquettes, and more. Shoppers can access all of these deals however they choose to shop -- pickup, delivery, or in-store. 
Prices for BBQ items are going up, experts say
According to DataAssembly's Grocery Price index, which collects and tracks weekly grocery store prices from over 150,000 stores across the country, the cost of hosting a barbecue this summer is going to be more than it has been in recent years – making these store discounts all the more valuable. 
Overall, barbecue goods will cost consumers roughly 9% more than in 2022, with the biggest price hike coming to condiments. Ketchup alone is nearly 30% more expensive than it was a year ago, and mustard and relish aren't far behind, with the former seeing a 13% price increase, and the latter seeing a 12% price increase since last year. 
In terms of popular grill items, ground beef is marginally down in price since last year (0.4% price decrease), and hotdogs have gone up in price by 3%.