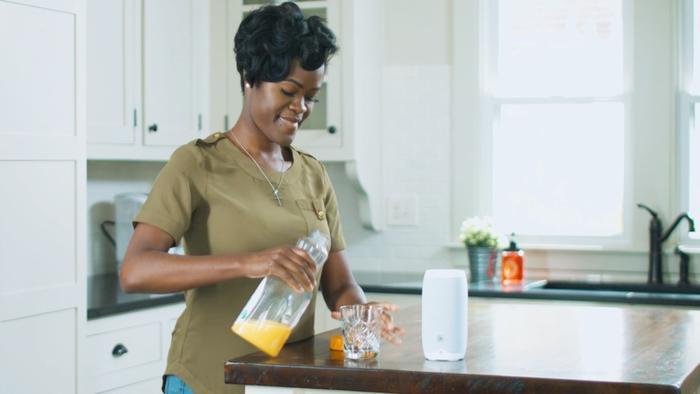 "Hey, Google, I need some milk."
And voila -- a half-gallon appears on your doorstep, right?
Close.
We're not at the genie-in-a-bottle point in technology yet, but Google and Walmart have officially launched their make-life-easier initiative using Google Assistant in tandem with Walmart's grocery pickup and delivery -- a plan that's spent the last year and a half in the incubator.
"Hey, Google -- say hello to Walmart Voice Order."
"With the new voice ordering capabilities we're building across platforms with partners like Google, we're helping customers simply say the word to have Walmart help them shop … literally," blogged Tom Ward, Walmart U.S.'s senior vice president of Digital Operations.
Ward noted that the service is currently in limited release, but he has intimated that the new functionality will help consumers quickly shop for the items they need.
"Sometime later this month, customers can say, 'Hey Google, talk to Walmart' and the Google Assistant will add items directly to their Walmart Grocery cart," said Ward. "Best of all, customers can be extra confident that we can quickly and accurately identify the items they are asking for with the help of information from their prior purchases with us. The more you use it, the better we'll get."
Walmart's timing couldn't be better. Ranging from Sony and LG TVs to Guess watches, Google Assistant is integrated into an insane number of digital devices. According to 9to5Google, that number increased 600 percent over the past year and is on target to be part and parcel of 1 billion devices by the end of 2019.
How easy is this going to be?
With the Spiderman-like ascent Google Assistant has made in the last year, it's likely you already have the app on some device you use. However, if you don't, Google suggests the following tips for helping you get caught up:
Make sure you have Google Assistant installed on the device you use most often. For most consumers, that would be the phone. While Assistant is "cross-platform," it's not necessarily a given that it will be on every brand. iPhone users, in particular, should double-check to see if it's installed on theirs.

Invest a few minutes to better understand how Walmart and Assistant work together. You can visit the Walmart overview on Assistant's site, or watch Walmart's how-to video.

To jumpstart your Assistant's connection with Walmart, do a simple command like "OK Google, ask Walmart to add bananas to my cart." That will get the ball rolling in the right direction.

Patience and product specifics are important to start. Like Ward said -- "The more you use it, the better we'll get," meaning that if a customer says "add milk to my cart," Walmart wants to make sure it adds the specific milk the customer buys regularly. Once Walmart knows the exact type of milk you want, consumers will only have to say "milk" instead of saying "1 gallon of 1 percent Great Value organic milk."

Don't worry about doing it all in one sitting. "We know when using voice technology, customers like to add items to their cart one at a time over a few days -- not complete their shopping for the week all at once. So, this capability aligns with the way customers shop," Walmart wrote.
Are Walmart and Google in an exclusive relationship?
Technology partnerships have to start somewhere, and Walmart chose to dance with Google first.
"We're kicking off the work with Google, adding others to the mix as time goes on," Ward said. "Over the next few weeks, the service will roll to more and more customers. We can't wait to hear what they think about it and how it's making shopping easier for them."