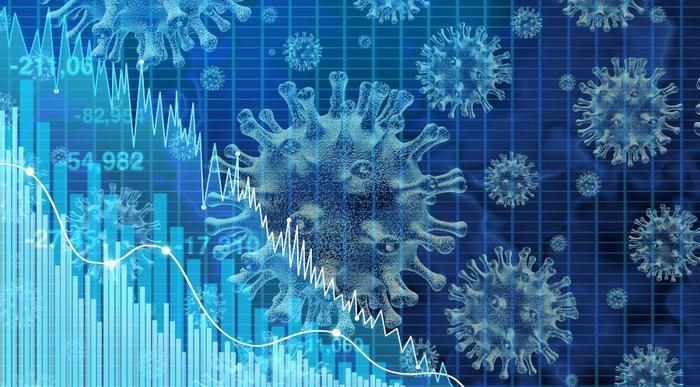 Countless Americans have no doubt been shocked and distressed to see the value of their stock portfolios and retirement accounts plunge in value over the last six weeks.
After hitting record highs in February, the major stock averages went into a nosedive as the coronavirus (COVID-19) began to spread across the U.S.  On March 11, the Dow Jones Industrial Average lost 1,485 points, ending the longest bull-market run in history.
It's not hard to figure out why. Consumers were suddenly avoiding cruise ships and airlines; they weren't going to department stores or shopping malls; restaurants were closing and laying off their employees.
But new research suggests the market crash might have been worse than it should have been, that dire predictions for a COVID-19 pandemic – and its potential impact on the economy – may have been fed by the market decline itself thanks to the non-stop flow of news about the unfolding crisis.
Media influence
Harry Mamaysky, associate professor of Professional Practice at the Columbia University business school, has traced some of the market's extreme gyrations to media influence, even on days when fundamental conditions did not significantly deteriorate.
"We're in the middle of what I would call a non-virtuous market cycle heightened by non-stop media reports," Manaysky said. "Sure stock prices should naturally be lower now than they were a month ago when we knew less about the virus, but the extreme swings we're seeing are tied to the ceaseless news stories covering the crisis, which in turn is causing hyper reaction in the market that we would not see otherwise."
Mamaysky makes clear he isn't faulting the media for its coverage -- he says it's just doing its job. The problem, he says, is the market is hypersensitive to this information, often magnifying its effects and embracing worst-case scenarios.
Analyzed coronavirus news stories
To carry out his study, Mamaysky used natural language processing (NLP) – something he says can analyze text in real-time. It was used to analyze Reuters news articles mentioning "coronavirus" or "COVID-19." He was then able to compare the tone of those news articles with changes in the financial markets.
Mamaysky says his study identified a "significant correlation" between sentiment about the effects of the virus and market prices, suggesting that the coronavirus outbreak created a situation in which the market was particularly responsive to news.
Interestingly, the market rallied when the news began to become more hopeful. New York reported deaths from the virus had declined, at least for a day. Health officials expressed cautious optimism that mitigation measures implemented in the last three weeks were having a positive effect.
On Monday, the Dow Jones Industrial Average rallied, turning in a 1,600 point gain.