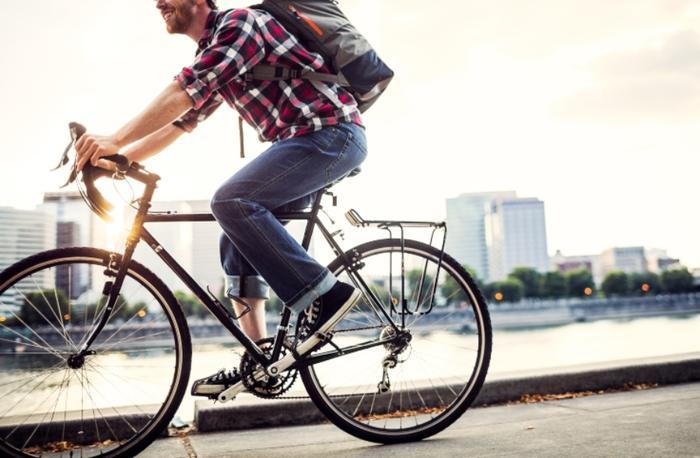 While it's no secret that being more active can boost consumers' health, researchers have found that incorporating physical activity into the daily commute can also benefit consumers. 
Now, researchers from Imperial College London found that those who opt to walk or bike to work could reduce their risk of early death or illness. 
"As large numbers of people begin to return to work as the COVID-19 lockdown eases, it is a good time for everyone to rethink their transport choices," said researcher Dr. Richard Patterson. "With severe and prolonged limits in public transport capacity likely, switching to private car use would be disastrous for our health and the environment. Encouraging more people to walk and cycle will help limit the longer-term consequences of the pandemic." 
Building in exercise
To understand the health benefits associated with walking or biking to work, the researchers evaluated data from over 300,000 commuters, including data from those who chose more active modes of transport and those who drove or took public transportation to work. 
The study revealed that just 15 percent of the participants chose an active form of transportation to get to and from work each day, while the majority of participants -- over 65 percent -- drove. 
However, the researchers found that incorporating this kind of exercise into the daily routine was found to be beneficial to the participants' health. The team learned that walking or cycling to work lowered the risk for cancer, cardiovascular disease, and early death. 
While walking and cycling yielded the greatest health benefits, the study also revealed that those who commuted by train fared better than those who drove. The researchers hypothesized that train commuters' had lower instances of cancer, cardiovascular disease, and premature death because their trips typically have more physical activity than those who just get into and out of their cars. 
Active commuting benefits
Previous studies have highlighted the popularity of active commuting. With the right infrastructure in place, more and more consumers can opt to add more physical activity to their days. 
"While not everyone is able to cycle or walk to work, the government can support people to ensure that beneficial shifts in travel behaviour are sustained in the longer term," said researcher Dr. Anthony Laverty. "Additional benefits include better air quality which has improved during lockdown and reduced carbon emissions which is crucial to address the climate emergency."