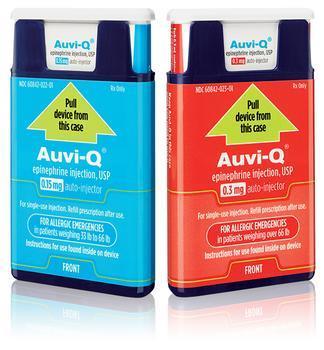 As the EpiPen shortage rages on, pharmacies have been struggling to fill prescriptions, leaving parents -- and their kids who rely on the lifesaving allergy treatment -- looking for solutions.
Walgreens is trying to be part of that solution. The pharmacy will now be stocking Auvi-Q -- an alternative that uses epinephrine to treat severe allergic reactions -- as a replacement for the EpiPen. Patients can currently only receive Auvi-Q through the mail, and this marks the first time the drug will be made available in a retail pharmacy.
"Walgreens pharmacists continue to care for and work with patients and their prescribers to ensure they have access to the epinephrine auto-injectors they need, and we're pleased to work with Kaleo to help meet the demand for epinephrine auto-injectors across the country," Walgreens President of Operations Richard Ashworth said in a statement.
However, Auvi-Q's price tag might be the only drawback. Two auto-injectors cost $4,500. While private drugmaker Kaleo noted that patients with commercial health insurance -- even those with high deductibles -- can receive Auvi-Q for free, not every insurer covers the drug.
In an effort to make Auvi-Q more accessible to patients in need, Kaleo will be providing it for free to those whose insurance doesn't cover it. There is also an assistance program for those who don't have insurance.
"We are working with insurance providers to maximize coverage of Auvi-Q for as many patients as possible," said Phil Rackliffe, general manager of Allergy and Pediatrics at Kaleo.
The shortage
The EpiPen shortage began in late May, though the need for the drug has only intensified now that many children are returning to school.
To help combat the issue, the Food and Drug Administration (FDA) approved the first generic EpiPen alternative last month, and Teva Pharmaceuticals launched generic versions of the EpiPen and EpiPen Jr.
"This approval means patients living with severe allergies who require constant access to life-saving epinephrine should have a lower-cost option, as well as another approved product to help protect against potential drug shortages," said FDA Commissioner Scott Gottlieb.
"We're applying our full resources to this important launch in the coming months and eager to begin supplying the market," Teva said in a statement.
The ongoing shortage issues are linked to supply and manufacturer issues.
Following Teva's new generic EpiPen, the FDA announced the extension of expiration dates of certain batches of EpiPens. The agency found that some of the auto-injectors could work four months past the posted expiration date.
Pfizer, which manufactures EpiPen, said the extensions will work for the 0.3mg dose of EpiPen and its authorized generic versions with expiration dates between April and December 2018. The extension will not work for EpiPen Jr.
"We are doing everything we can to help mitigate shortages of these products, especially ahead of the back-to-school season," said Dr. Janet Woodcock, director of the FDA's Center for Drug Evaluation and Research. "We're hopeful this action will ensure patients have access to this important medication and provide additional peace-of-mind to parents as the agency works with the manufacturer to increase supply."