---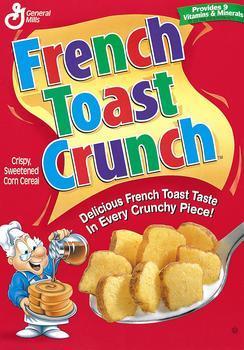 Apparently Americans aren't finding cereal as magically delicious as they did back when Lucky Charms cereal was in its heyday. Cereal lovers' ardor has cooled a bit compared, especially in the last year.
In a quarterly report that came out in September, General Mills reported that sales for its U.S. cereal business, which is made up of such brands as Cheerios, Lucky Charms, and Wheaties, dropped 9% from a year ago.
Kellogg is also a little soggy. The maker of such classics as Frosted Flakes, Rice Krispies, and Fruit Loops said their cereal segment in some markets was "challenging."
Apparently people are eating more yogurt and breakfast bars. Also there are no more Saturday morning cartoons that sold the stuff like, well, like hot cakes.
But a resurgence of sorts may be starting in other corners of the food business, as a few companies are bringing the oldies but goodies back. Mars reintroduced crispy M&Ms and Burger King brought back a 40-year-old hoagie, the Yumbo.
Now cereal lovers from the 90's can recreate their morning childhood experience with the comeback of Kellogg's French Toast Crunch. Perhaps this will wake up the cereal business for General Mills.
"We have been overwhelmed by the consumer conversations, requests and passion for the cereal to come back," General Mills marketing manager Waylon Good said in a statement. "We value our fans and are so excited to be able to bring it back for them."
A Facebook memorial page was set up to bring the sugary syrupy cereal back. There were at least five petition campaigns on Change.org, supposedly launched by those pining for a return to the days when breakfast cereal was both crunchy and gooey.
One of the petition organizers was Maryssa Lovejoy of Sebastopol, Calif., who urged General Mills to "recontinue selling French Toast Crunch." She didn't get any signers. She only got 50 signatures. (Sometimes it's more about who you know.)
At any rate if you are a fan of French Toast Crunch it will be back on the shelves starting in January.
---