---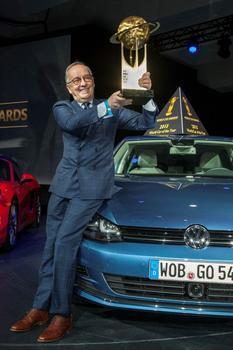 The Volkswagen Golf has scooped up the "World Car of the Year" title at the New York Auto Show, the second year in a row VW has taken the award. It won last year for its Up! supermini.
The Porsche Boxster and its hardtop sibling the Cayman won the World Performance Car award, making it something of a grand slam for VW, which owns Porsche.
The awards are decided by a panel of 66 auto journalists from around the world.
The new Golf is the seventh-generation car to bear the name. It's longer, wider, lower, sportier, more fuel efficient and much sportier-looking than the car it replaces. It comes in both gas and diesel versions and as a sportier GTI.
"To win this award again shows that the Golf is and remains in a class of its own all around the world," said Dr. Martin Winterkorn, VW chairman. "This car sets new benchmarks again and again, not least in terms of efficiency and environmental credentials. Soon, for instance, the Golf will also be launched as a plug-in hybrid and as a 100% electric car."
Not just yet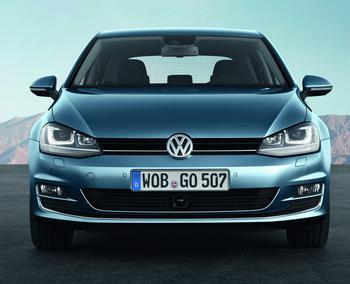 Don't rush over to your VW dealer just yet, though. Although the seventh-generation Golf is already on sale in Europe as a 2013 model, it won't reach the U.S. until the second quarter of 2014 as a 2015 model. Starting price is around $18,000 but options can quickly push the sticker price to $30,000, especially if you opt for the TDI diesel engine, which gets better mileage and is faster off the line than the gas version.
Diesels have had a hard time catching on in the U.S., partly because the price of diesel fuel has remained stubbornly high, although the gap has been narrowing somewhat. Also, the price of premium gas -- which many newer, turbocharged cars require -- has been climbing faster than regular, helping to make diesel a more affordable option.
---