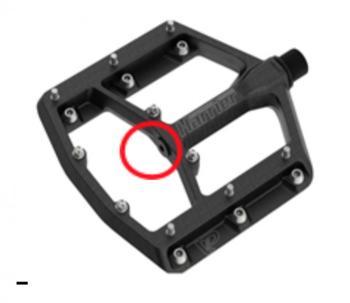 VP Components of Taiwan is recalling about 2,700 pairs of VP Harrier and Giant Pinner DH bicycle pedals.
The pedal body can separate from the pedal spindle resulting in a loss of balance, posing fall and injury hazards for the rider.
The company has received 79 reports of broken spindles and one report of a rider injured in a fall, after the spindle of a Giant Pinner DH model pedal separated from the body of the pedal.
This recall involves VP Components Harrier and Giant Pinner DH bicycle pedals sold separately from bicycles.
A spindle extends through the pedal body. One end of the spindle is attached to the end of the crank arm of the bicycle. The other end of the spindle is secured to the pedal body with a fastener.
The pedals are red, silver or black-colored with Harrier or Giant printed on the pedal body.
The pedals, manufactured in Taiwan, were sold at bicycle stores nationwide and online at various websites from approximately May 2017, through December 2017, for between $113 and $116 each.
What to do
Consumers should immediately stop using the recalled bicycle pedals and contact the bike shop or online retailer where the pedals were originally purchased to arrange for free replacement pedals.
Consumers may contact VP Components toll-free at (844) 698-8883 between 9 a.m. and 5 p.m. (PT), Monday through Friday, by email at inquiry@vpcomponents.com, or online at www.vpcomponents.com (for Harrier pedals) and click on "Product Recall" at the top of the page, or www.giant-bicycles.com/us (for Giant Pinner DH pedals) and click on "Recall Information" at the bottom of the page.