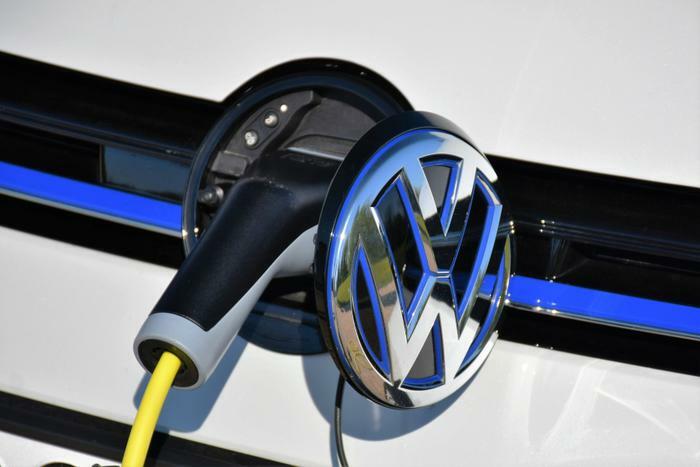 Volkswagen is changing its brand in the U.S. to "Voltswagen" to underscore its commitment to electric vehicles.
The news was supposed to be announced on April 29, but the news release appeared on the automaker's website on Monday, a month early. The release was taken down less than an hour later, and the company has made no comment about the premature release or about the change in branding.
Could it have been an early April Fool's prank? CNBC reports that it spoke with several people familiar with VW's plans, and they confirmed that the news release is real. CNBC said no one was willing to speak on the record because the plans were still supposed to be under wraps.
According to the release, the change will take place in May, and the new Voltswagen logo will only appear on VW's electric model. Gasoline-powered vehicles will still bear the long-time VW logo.
Investment in e-mobility
The release said the change in branding is meant to be a "public declaration of the company's future-forward investment in e-mobility." It said the old logo would retain the current dark blue color, but the new Voltswagen logo would be light blue to differentiate "the new, EV-centric branding."
In 2019, Volkswagen announced plans to produce 22 million electric vehicles across its entire product line over the next 10 years. Previously, the company announced it would achieve an all-electric fleet by 2029.
The embrace of emission-free propulsion has been an abrupt pivot for Volkswagen, which in the last decade became embroiled in a major scandal when it was accused of equipping its "clean" diesel fleet with software to help it cheat on emissions tests.
Other than the U.S. brand, very little is changing. The release said Voltswagen of America would remain an operating unit of Volkswagen Group of America and a subsidiary of Volkswagen AG.
---
Update: The rebrand reported above was found to be an April Fool's prank pulled by Volkswagen. Read more in our expande update here.