---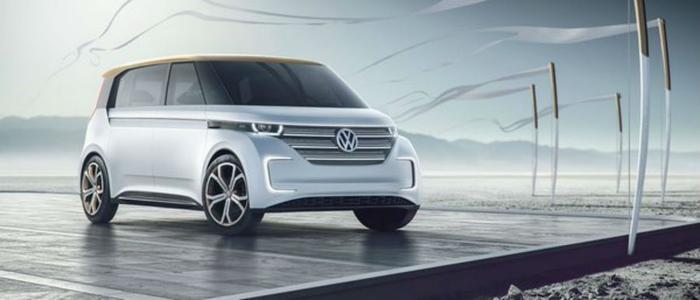 It's easy to confuse the Consumer Electronics Show (CES) in Las Vegas with an auto show. All the carmakers are on hand, showing off the latest infotainment gadgets and self-driving technology.
Volkswagen is using the show to introduce a new electric concept vehicle – and in the process perhaps, shift the focus away from its diesel emissions scandal, which was back in the news this week thanks to a U.S. government lawsuit.
Having spent years building its brand around diesel technology, VW appears to be looking to electric vehicles as its future. The company is promoting its first vehicle based on the all-new Modular Electric Platform (MEB) that is designed specifically for plug-in vehicles – the BUDD-e.
The design is supposed to be a 21st century remake of the iconic VW microbus, popular as hippie transportation in the 1960s. When this vehicle advances to production just before the end of this decade, VW says it will have a range of up to 373 miles, comparable to what many gasoline-powered vehicles get on a tank of gas.
Charges in 15 minutes
The company says the 101 kWh battery will recharge to 80% capacity in about 15 minutes.
Volkswagen said it is counting on the MEB architecture to usher in a fundamental change in electric cars and bring about "a revolution in automotive technology, leaving today's fossil-fuel powered internal combustion engines and drivetrains in the past."
The new platform is built to design-in electric drive components and large batteries while maintaining interior space and driving dynamics. The company says MEB will allow for spacious interiors with the smallest possible footprint.
Twin motors
The drivetrain will feature two motors – one for each axle. Together, the motors will reportedly power the BUDD-e to a top speed of 93 miles per hour.
"In addition to their space, MEB vehicles will offer high levels of functionality and networking thanks to the new vehicle architecture, instrumentation, and operating systems," Volkswagen said in a statement. "New and enhanced assistance systems will provide passengers with safer transport."
But the BUDD-e is still just a promising concept. It won't become a reality until a few years in the future.
In the meantime, VW remains very much associated with diesel propulsion, and the reality of the present is not all that pleasant.
---