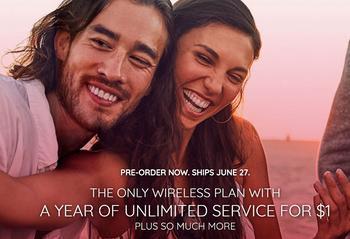 An old rule of thumb in the consumer protection business is that if something sounds too good to be true, it probably is. But Virgin Mobile insists that's not the case with its latest offer -- one year of unlimited talk, text, and data for $1.
Not only that, but the $1 deal also includes membership in the "Virgin Inner Circle," which includes perks like a free one-night stay at a Virgin hotel or a companion ticket for flights to the U.K.
There is, however, one hitch: you must buy a new iPhone from the Apple Store or the Virgin Wireless website. That will set you back anywhere from $400 to $970. 
The fine print
The offer becomes effective today and the $1 deal is only for customers who sign up within the first 30 days. After that it reverts to a six-month offer. When the promotional year or six months is up, service will be $50 a month.
Even with those provisos, it's a rather dramatic promotion. Angela Rittgers, chief marketing officer at Virgin Mobile, said the company's "biggest struggle is how to make sure consumers understand there is no gimmick behind this," according to a report in Ad Age. 
Sprint made a similar offer last week, offering consumers a free year of service if they switch from AT&T, T-Mobile, or Verizon and provide their own device. Sprint owns Virgin Wireless, which may explain the similarity.
Virgin Wireless hasn't exactly set the world afire. It trails most of its competitors and there had been reports last year that Sprint was planning to scale it back, but Rittgers says the $1 deal may be sufficiently disruptive to give Virgin a much-needed boost, saying it's "the longest test drive someone will ever take."