---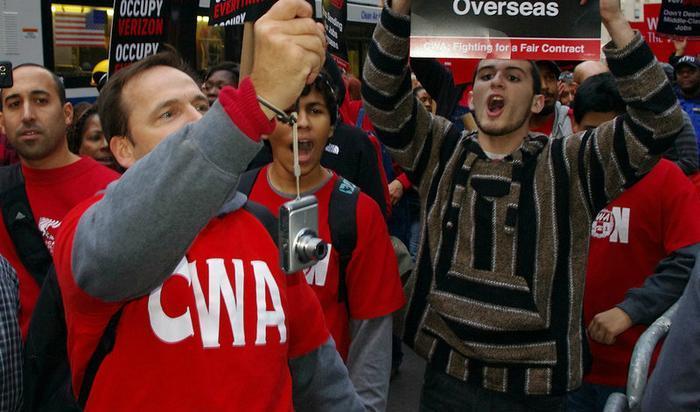 With all of its wireless and streaming video projects, it's easy to forget that Verizon is still the telephone company for millions of Americans along the East Coast. So it's worth noting that 40,000 unionized workers who keep the circuits humming are scheduled to walk off their jobs at 6 a.m. on Wednesday.
Verizon workers, represented by the Communications Workers of America (CWA) and the International Brotherhood of Electrical Workers (IBEW), have been working without a contract since August 1, 2015 and say the company has refused to bargain in good faith.
The strike affects an area from Massachusetts to Virginia, including Washington, D.C., New York, Boston, and Philadelphia.
Verizon says it's ready for the strike and notes that it is experienced in dealing with work stoppages. 
Ready for a strike
"Let's make it clear - we are ready for a strike," said Bob Mudge, president of Verizon's wireline network operations.  "With any sort of job action or disruption to our business, our primary goal is to ensure our customers can count on the critical communications services that they pay for and we provide. I want them to know that will happen."
Mudge said preparations include:
The training of thousands of non-union employees to fill-in for those walking a picket line.
Employees will be reassigned from all parts of the U.S. and all parts of the business including finance, marketing, real estate, engineering, and more.
Duties include handling customer inquiries, inside and outside network plant management, and fiber and copper network maintenance and repair -- both on the ground and on Verizon's poles.
Record profits
The unions say that despite making record profits, Verizon has been moving jobs to the Philippines, Mexico, and elsewhere, outsourcing work to low-wage contractors and transferring workers away from their families for months at a time.
The unions are also critical of Verizon's failure to continue expanding its FiOS network beyond the mostly urban areas it now serves. For its part, Verizon says it has built out the FiOS network in the areas it originally contemplated.
The unions argue that Verizon's actions are hurting customers as well as workers.
"Service quality has deteriorated to the point that New York State's Public Service Commission has convened a formal hearing to investigate problems and regulators in Pennsylvania and New Jersey have said they may do likewise.
Verizon recently
sold off
huge swaths of its landline network in urban areas of California, Texas, and Florida, raising $10 billion that it has said it will invest in expanding its wireless networks and acquiring content networks like AOL and, possibly, Yahoo. 
What to do
There's nothing consumers need to do to prepare for the strike. Services should continue to operate normally, but scheduled installations and emergency repairs may take longer than usual.
---