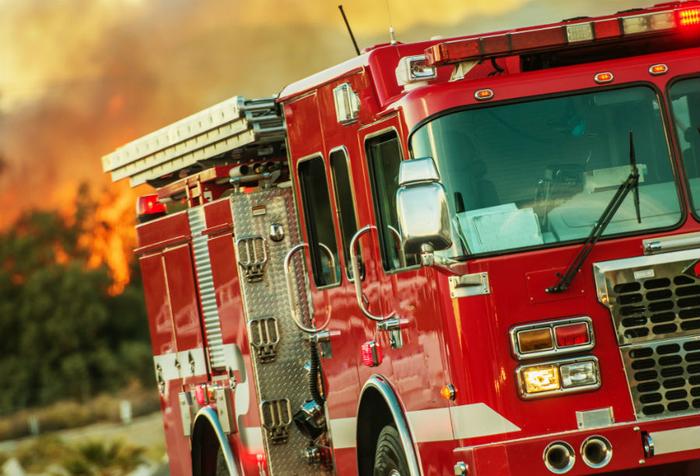 When a fire department vehicle's wireless service was interrupted in the midst of California's biggest wildfire, the wireless provider -- Verizon -- pointed its fingers at a customer service error.
In a court filing this week, the Santa Clara Fire Department said one of its crews had its service significantly affected as it was fighting a wildfire at the Mendocino Complex.
"County Fire has experienced throttling by its ISP, Verizon," Santa Clara County Fire Chief Anthony Bowden wrote in the filing. "This throttling has had a significant impact on our ability to provide emergency services. Verizon imposed these limitations despite being informed that throttling was actively impeding County Fire's ability to provide crisis-response and essential emergency services."
Recent issues with Verizon
The fire department paid for an unlimited plan with Verizon but allegedly experienced a great deal of throttling until the plan was upgraded.
"The internet has become an essential tool in providing fire and emergency response, particularly for events like large fires which require the rapid deployment and organization of thousands of personnel and hundreds of fire engines, aircraft, and bulldozers," Bowden wrote.
Bowden noted that Verizon's throttling affected "OES 5262" -- a control and command that aids in tracking and deploying resources for firefighters wherever the need is greatest around the state and country.
"In the midst of our response to the Mendocino Complex Fire, County Fire discovered the data connection for OES 5262 was being throttled by Verizon, and data rates had been reduced to 1/200, or less, than the previous speeds," Bowden wrote. "These reduced speeds severely interfered with OES 5262's ability to function effectively."
After communicating with Verizon about the throttling, Bowden said the wireless provider's representatives said the issue wouldn't be resolved until the fire department switched to a new plan -- at double the cost.
Verizon released a statement earlier this week, admitting to being at fault for throttling the services. It labeled the issue as a miscommunication.
"Like all customers, fire departments choose service plans that are best for them. This customer purchased a government contract plan for a high-speed wireless data allotment set at a monthly cost. Under this plan, users get an unlimited amount of data but speeds are reduced when they exceed their allotment until the next billing cycle. Regardless of the plan emergency responders choose, we have a practice to remove data speed restrictions when contacted in emergency situations," Verizon said.
"We have done that many times, including for emergency personnel responding to these tragic fires. In this situation, we should have lifted the speed restriction when our customer reached out to us. This was a customer support mistake. We are reviewing the situation and we will fix any issues going forward."
Net neutrality
Earlier this week, 22 state attorneys general filed a brief asking the appeals court to reinstate the net neutrality laws that were founded under the Obama administration. Bowden's declaration was submitted as an addendum to the brief that was filed with the states, the District of Columbia, Santa Clara County, Santa Clara County Central Fire Protection District, and the California Public Utilities Commission.
There was much speculation that Verizon's service interference was a product of net neutrality regulations, as opposed to what they are calling a customer service error. The beginnings of Verizon's service throttling was documented in fire department emails on June 29 -- just weeks after the repeal of net neutrality.
All major carriers implemented some form of network throttling -- even when net neutrality laws were in place -- when customers went over their data threshold on unlimited plans. While such instances were limited to times of network congestion, the Santa Clara Fire Department reported throttling at all times once going over their allotted 25GB a month.