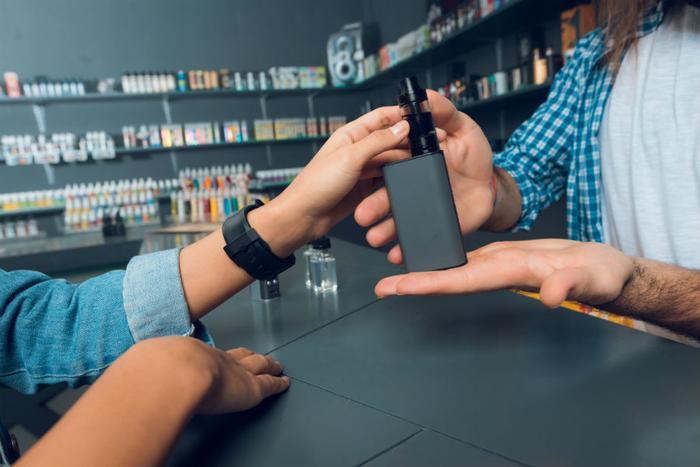 A popular talking point for the e-cigarette industry is that vaping helps cigarette addicts quit smoking. But that doesn't appear to be what e-cigarettes are actually designed to do.
The Food and Drug Administration (FDA) announced today that its own research found that vaping has increased by 80 percent in high schoolers and by 50 percent in middle schoolers, suggesting once again that non-smokers are an important target market to the vaping industry.
Those teens are then more likely to turn to traditional cigarettes -- some of which are sold by the same business interests that have entered the vaping market.
"The data show that kids using e-cigarettes are going to be more likely to try combustible cigarettes later," FDA Commissioner Scott Gottlieb said in a lengthy statement Thursday about his agency's plans for an industry-wide crackdown. "This is a large pool of future risk."
While some proponents have claimed that cracking down on vaping will be a boon to Big Tobacco, the cigarette industry has actually invested heavily in e-cigarettes. Philip Morris is currently aggressively lobbying Australian regulators to overturn a country-wide ban on vaping.
The United States approach to regulating vaping would be less stringent.
Banning flavors
To combat what they say is an "astonishing" rise in teen vaping, the FDA is pursuing a ban on selling flavored e-cigarettes at any stores where people under the age of 18 are allowed.
Such a policy would ban flavored products from convenience stores and gas stations, though tobacco and vape shops would still be able to sell flavored pods.
The FDA will also make an exception to those rules for mint, menthol, and tobacco flavors because they say that people trying to quit traditional cigarettes have found those flavors helpful.
The agency is, however, following through on plans to crackdown on menthol cigarettes and flavored cigars.
Juul, a vaping brand that has gained a cult-like following among teens, said it has agreed to stop selling its Mango, Fruit, Cream, and Cucumber flavored pods at 90,000 retail stores, though the company claims it was never trying to get kids hooked.
"We launched flavors like Mango, Fruit, Creme, and Cucumber as effective tools to help adult smokers switch from combustible cigarettes, and we do not sell flavors like Gummy Bear or Cotton Candy, which are clearly targeted to kids," the company said online.
Industry panic
But research has suggested otherwise. In 2016, researchers at the UCSF School of Medicine found that vaping actually made people 28 percent less likely to quit cigarettes. Experts say that cigarette addicts should stick to e-cigarettes with large cartridges if they are vaping to quit.
The FDA's announcement appears to be sending chills through the vaping industry.
The Smoke Free Alternatives Trade Association, one of the vaping industry lobbying groups, is planning a meeting in December with other vaping trade groups to organize against "the many issues facing the vaping industry at the Federal level."
"It's time for us all to stop viewing each other as the enemy and start working together -- or we will face dire consequences as an industry," the group's Executive Director Mark Anton wrote today on Facebook.