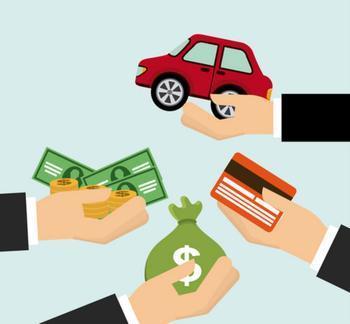 More consumers are turning to used vehicles as new car prices continue to reach record levels, according to new data from Experian. But even used car sales are resulting in buyers financing record debt.
The report shows average vehicle loan amounts are rising across the board. The average loan amount for a new vehicle increased 3.8 percent in the third quarter to reach $32,480, while the average used car loan amount increased 2.3 percent to reach $20,466. 
Experian categorizes the average monthly payment for used cars in the third quarter as "high" -- $393. That's led to many buyers financing vehicles for an extended period of time in order to get a lower payment -- something most personal finance experts consider risky.
The value of a vehicle goes down over time and as miles add up. If a buyer is paying off the loan at a slow rate, at some point they will owe more for the vehicle than it's worth. That means they can't sell it or trade it in without writing a check.
New cars are getting more expensive
The rising cost of new cars and trucks is a major reason used vehicles are taking a bigger share of the automotive market. The financing of used vehicles increased by 2.4 percent year-over-year in the third quarter, reaching 55.15 percent of auto loans. 
Experian says other reasons for the shift to used vehicles include a higher percentage of prime customers financing used vehicles and the increased availability of late-model vehicles coming off three-year leases.
As prices for both new and used cars rise, buyers appear to be financing for longer periods of time, a trend that worries some in the industry. In the third quarter, Experian saw average car loan terms increase in both the five- and six-year loan categories, with five and six-year used car loans increasing by 42.9 percent.
Perhaps more worrying was the 19 percent increase in used car loans that extended payments for seven years. Automotive News reports that auto lenders are sharply divided on this sort of financing.
Bad for consumers
Some lenders won't underwrite seven-year loans, particularly on used vehicles, calling them bad for consumers. Others offer them because they believe underwriting metrics have improved to the point that they can tell good risk from bad and reduce the chances of making a bad loan.
But extended used car loans fly in the face of the advice of personal finance researchers who, as late as 2017, said the "20-4-10 rule" still applies. 
The rule states that a potential buyer should be able to afford a 20 percent down payment, a four-year loan, and make payments that don't exceed 10 percent of their household's income. If someone can't make those kinds of payments, then the researchers say they can't truly afford the vehicle.
ConsumerAffairs has collected hundreds of reviews on major auto lenders. Check them out here.