---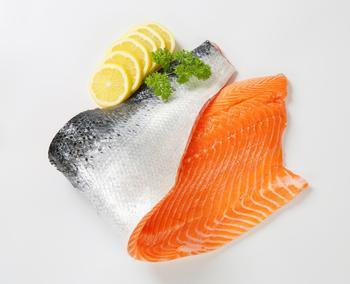 The U.S. Food and Drug Administration (FDA) says it has concluded that allowing a genetically-engineered salmon to enter the food supply would have no significant impact on the environment.
The FDA's draft environmental assessment will remain open for public comment for 60 days -- one of the steps toward making the fast-developing salmon, which the agency says is as safe as Atlantic-raised salmon, an approved source.
The company behind the genetically-engineered fish is AquaBounty Technologies. It said it has spent the last 10 years pushing the proposal through the bureaucratic maze.
Patented fish
It has patented a way to grow a fish using an Atlantic salmon egg that includes a genetically-altered gene from a Chinook salmon. Not only can the fish be grown in captivity for harvest, they mature in about half the time as salmon in the wild.
The FDA's move brought a stinging rebuke from environmental groups, who said it now appears clear that the White House is fully behind the effort to introduce the new fish to the food supply.
"It is extremely disappointing that the Obama administration continues to push approval of this dangerous and unnecessary product," said Andrew Kimbrell, executive director of Center for Food Safety. "The GE salmon has no socially redeeming value; it's bad for the consumer, bad for the salmon industry and bad for the environment. FDA's decision is premature and misguided."
Possible congressional opposition
The group said more than 40 members of Congress have repeatedly urged the agency to conduct more rigorous review of environmental and health safety, and stop any approval process until concerns over risks, transparency and oversight have been fully satisfied. It noted that the FDA had received nearly 400,000 negative comments.
The Center for Food Safety, a private, non-profit environmental group, said it is worried the genetically-engineered fish could spawn disease that could get loose in the wild and devastate native fish populations.
"We need a robust regulatory system that puts environmental, human health, economic and animal welfare risks first," said Kimbrell. "Putting a GE animal on the path to consumer use without proper safeguards and with no mandatory labeling requirement proves that the system FDA has in place gives us none of that."
The FDA, meanwhile, said it is extremely unlikely that genetically-engineered and native fish would ever come in contact. Even if some of the genetically-engineered fish did manage to escape to the wild they would not be able to survive in a native habitat.
A final decision is not likely anytime soon. After the comment period the FDA could take weeks to go over them before rending a final ruling.
---