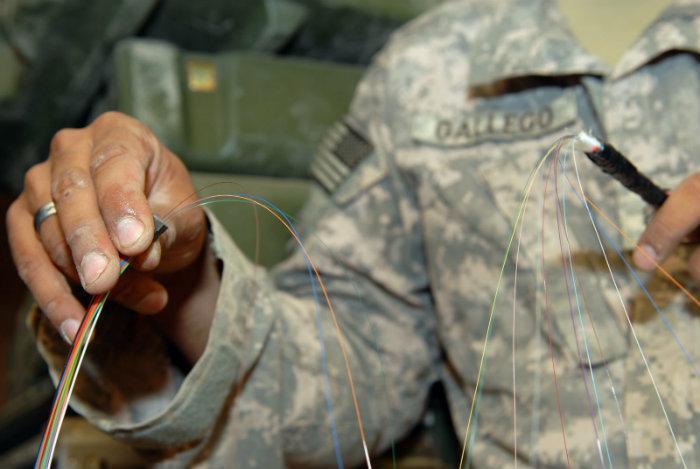 Wireless broadband is becoming more widely available, but the Federal Communications Commission (FCC) says 34 million Americans still don't have access to wired broadband at speeds of 25 Mbps or more.
Again in 2014, the U.S. compared poorly to other developed nations, ranking 16th out of 34.
The finding is the centerpiece of the FCC's annual survey of broadband deployment. By law, the agency must survey the state of the wired nation once a year and, if deployment is inadequate, it is supposed to take steps to fix it.
As in previous years, rural areas fared the worst, with 39% of rural Americans lacking minimum broadband access, down from 55% in 2012. In urban areas, only 4% can't get broadband, down from 11% in 2012. Tribal lands also fared poorly.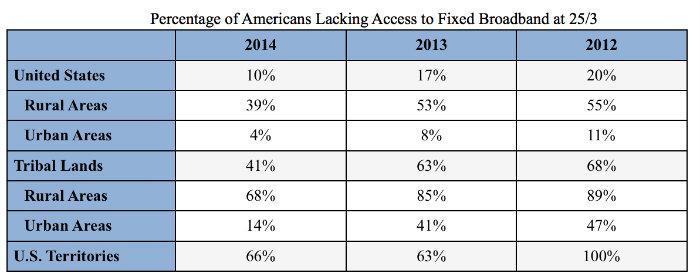 The FCC is not the only agency fretting about broadband. New York Attorney General Eric Schneiderman says his office is investigating whether consumers are getting the speeds they're paying for and is asking consumers to chime in.
Hillary Clinton is proposing a $275 billion "infrastructure" plan that would, among other things, offer faster broadband connections to millions. It basically has the same goals outlined by FCC Chairman Tom Wheeler but promises faster funding.
While politicians pursue their rather pedestrian options, businesses tend to take a flashier pie-in-the-sky approach.
Google and AT&T; are in something of a race to provide ultra-fast broadband in certain sections of some cities. Critics note this makes for good headlines but doesn't do much for underserved areas which would remain underserved while Google and AT&T; engage in the practice known as cream-skimming -- selling pricier services to people who already have perfectly good service (sort of the Toyota-Lexus strategy applied to telecom).
Facebook and Google have various schemes to provide wireless broadband in places like India, possibly using balloons and drones. None of those plans include the U.S., though.
Schools way behind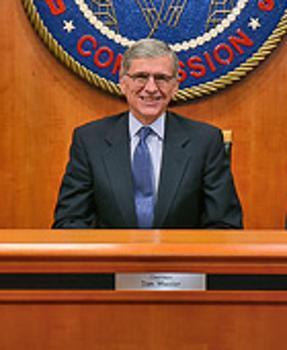 The nation's schools got a failing grade again this year, with 41% still not meeting the FCC's goal of 100 Mbps per 1,000 students and staff. Those schools educate 47% of the nation's students.
The poor showing by schools comes despite years of telecom and cable industry hype surrounding demonstration projects and initiatives supposedly aimed at wiring schools.
The demonstration projects tend to slowly disappear once the carriers get the franchise, rate increase, or whatever else they were seeking from local regulators.
Poor showing
The draft report was assembled by FCC Chairman Tom Wheeler and will be presented to the full commission later this month. 
Wheeler notes in his report that the poor showing is not for lack of trying. Ten carriers snapped up $1.5 billion from the Connect America Fund in August 2015 to expand rural broadband and pledged to expand rural broadband to 3.6 million homes and businesses by the end of 2020.
The FCC has also issued more than $2.8 billion in funding commitments to support fiber and Wi-Fi in schools and libraries. Various other allocations are supposed to improve deployment of wired broadband and encourage development of faster wireless service in underserved areas.
Wheeler says that while wireless broadband is more widely available than ever before it doesn't replace wired connections. In fact, Wheeler notes, consumers need both fixed and mobile broadband access. 
"Fixed broadband offers high-speed, high-capacity connections capable of supporting bandwidth-intensive uses, such as streaming video, by multiple users in a household," the report says, adding: "But consumers who rely solely on mobile broadband tend to perform a more limited range of tasks and are significantly more likely to incur additional usage fees or forgo use of the Internet."
But while consumers and business need both fixed and mobile, the FCC has not yet set a mininum standard for mobile broadband and thus doesn't draw any conclusions about the extent of wireless deployment.
Want to guess what next year's broadband deployment report will say?