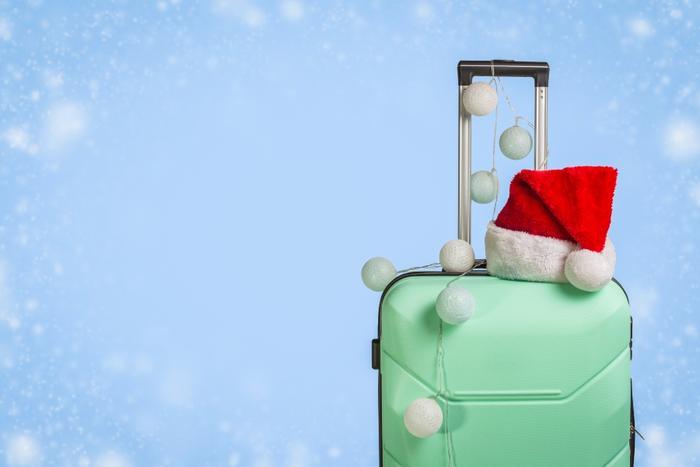 If you're anything like your fellow Americans, you're likely to spend some money on holiday-related travel.
In a recent online survey of more than 2,000 U.S. adults, NerdWallet found that nearly half of respondents (45 percent) say they're willing to personally spend as much as $1,383 to do their holiday travel. In the company's estimation, that comes out to a whopping $159 billion dropped on holiday travel from sea to shining sea.
"Uncertainty about the economy isn't stopping Americans from spending significantly on holiday travel this season: Travelers say they will spend almost $1,400 on flights and hotels," said NerdWallet personal finance expert Kimberly Palmer.
Survey highlights
In NerdWallet's poll, they asked American consumers about what they're planning to spend on holiday travel, how they're going to finance it, and what steps they are taking to get a better price on things like flights and accommodations. Here are the highlights:
Billions in credit card spending 
Spending $159 billion on holiday travel is good news for everyone — grandma, airlines, hoteliers — but it's especially good for credit card companies, which are ready to carry the average $1,105 travelers say they'll charge to make their holiday travel plans happen.
Using credit cards to finance travel works for both consumers and lenders alike: consumers get to build up some points and miles that they can use down the line, but it's the lenders who can jump on the gravy train and amass billions in overall spending. If holiday travelers do nothing more than pay the minimum on that $1,105, the lenders can wind up with an extra $386 in interest per consumer by the time the charges are finally paid off.
Travelers are being proactive about saving on their trips
Ninety-one percent of all Americans who plan to spend money on flights and/or hotels for their holiday travel aren't spending it willy-nilly. Rather, consumers are doing more planning to see where they can shave some of that travel-related debt. 
"Many are opting for price over convenience when choosing flights (39 percent), or over amenities when choosing a hotel/motel (38 percent)," said NerdWallet's Erin El Issa. "Others are using credit card points/miles (32 percent) and staying with family/friends instead of booking a hotel/motel (29 percent)."
The more the merrier
The study found that if someone is going to book a flight or room over the holidays, they're inclined to make the most of it by traveling with someone else — a spouse, significant others, kids, pets, et al. 
As a matter of fact, 72 percent of the respondents say they'll be booking 3.4 round-trip tickets and 5.1 nights of hotel stays, on average. Again, this is a boon to both the travel industry and credit card companies, as those flights and hotel rooms will cost consumers somewhere between $1,633 and $1,916, depending on their travel dates.
Money-saving holiday travel tips
Going further than just publishing numbers, NerdWallet's team took a step back to view how consumers might use the findings to their advantage.
Prioritize 
"It's not always financially realistic to travel to see family and buy them extravagant gifts, so it's important to prioritize what's most important to you. If you love showering your family and friends with presents, it might make sense to ship the gifts and visit during a cheaper time of the year," Issa says. 
"Or maybe you can limit gift-giving to just the children in the family or not do gifts at all, and prioritize paying for travel so you can spend time with your loved ones. Figure out how much you feel comfortable spending on the holidays and decide how you want to spend it."
Reevaluate rewards
Close to a third of consumers who are planning to travel over the holidays say they're going to try to use points/miles to cover the costs. But, is holiday travel the best use of those rewards? 
"In terms of value per point, you won't get the most bang for your buck with peak-season domestic travel. If you have an overseas trip planned for next year, that may be the better place to apply your points and miles, while you use cash savings to pay for holiday travel," deduces Sara Rathner, NerdWallet's travel guru. 
"But if your one big trip of the year is flying your family across the country for Christmas, then use those points. It's always better to cash them in for something important to you than save them forever in hopes of planning the 'perfect' trip."
Start saving earlier
As another study found, consumers are ready and willing to take on added debt for the sake of the holiday. And while it might be too late for 2019 travel plans, Rathner says that consumers should start saving earlier to avoid debt.
Instead of going into the red to pay for travel expenses so close to the actual travel dates, Rathner suggests that consumers plan to start saving earlier for their holiday travel expenses earlier in 2020 so they can enjoy visiting their families without fretting about how they're going to pay off those charges once they get home.