The 2015 tornado season turned deadly early, with a 6-day outbreak in Texas and Oklahoma in early May causing deaths, injuries and widespread property damage.
Engineers at the University of Alabama Birmingham (UAB) have developed building panels they believe will make homes in the path of tornadoes safer and reduce deaths and injuries.
Specifically, the panels are designed to be used in construction of a "safe room" inside the house – a room where occupants can gather to ride out a twister.
The safe room is designed in accordance with FEMA standards to withstand 250 mile-per-hour winds, designed to stay intact, even if a tornado destroys the house around it.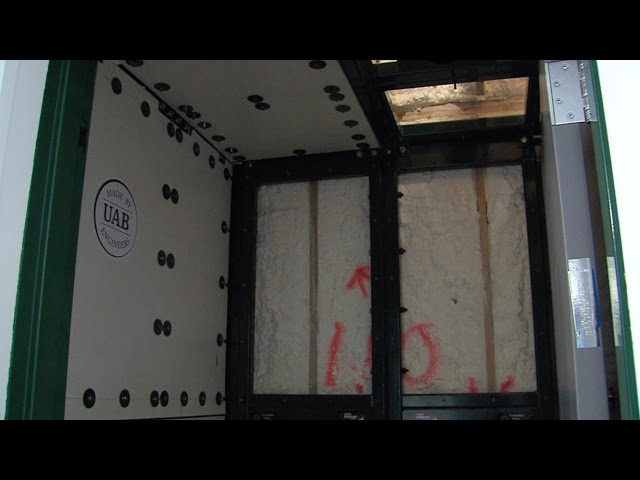 Public-private partnership
Uday Vaidya, professor and chair of UAB's Department of Materials Science and Engineering, worked with Storm Resistant Systems and Cooper Structural Engineers to scale the panels for use in a prototypical home.
Before testing, the UAB panels got approval from the National Storm Shelter Association, which rated them strong enough to hold up against an EF5 tornado, the most powerful.
"To see panels pass our most extreme test the first time is very impressive," said Larry Tanner, P.E., manager of the NSSA/Texas Tech Debris Impact Test Facility. "This material is lightweight and sustainable and looks to have a bright future in the storm-shelter industry. If it saves even one life, it will have been worth the effort to design it."
The panels don't look all that different from other building materials. The difference is in the composition.
Tough construction
Vaidya says the thermoplastic and fiberglass resins and fibers used in the panels are stronger per-unit density than the steel used in many current shelters, while weighing 80% less. The panels also contain some foams and fibers present in armored military vehicles.
Within a house, the safe room is constructed with a steel frame that holds the panels in place. When not in use the frame can be folded up and stored, though setting it up permanently in an interior room makes the safe room available at a moment's notice. The developers say the system can be used in almost any residence.
"The UAB panels are unique in comparison to the other products I've seen used in that they are lightweight, similar to plywood, but they have the strength equivalent to steel," said David Cooper, president of Cooper Structural Engineers. "The ease of getting them in and out of a home for installation combined with the strength is what makes these panels a step above other products on the market."
2011 storms provided motivation
Development began in the wake of the 2011 Alabama tornado outbreak. Vaidya and his team saw the urgency in developing a material that could easily and quickly turn any room in a house into a safe haven, surrounded by an impenetrable shield.
"2011 happened, and the work we were doing, we saw had a lot of applications for tornado-related activities," Vaidya said. "During a tornado or hurricane, you get a lot of two-by-fours flying in a home; a lot of debris is picked up, and it can actually penetrate inside a house. People die from the debris that comes through the walls or other things, so we built panels that would resist the debris completely."
UAB says it plans to work with contractors and engineers to integrate the panels into new construction, as well as market them as kits to be retrofitted into existing homes.