---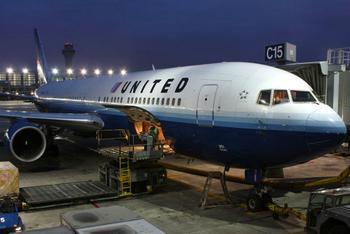 Airline companies have come to rely on computer systems in order to keep things running smoothly, but a lot can go wrong when those systems break down. Consumers may remember the technical glitches that affected Southwest Airlines and Delta Airlines last year, which led to thousands of canceled flights and millions in lost revenue.
Now, another airline company has been plagued by its own technical problem. According to a Reuters report, United Airlines was forced to ground all of its domestic flights for around an hour last night due to an "IT issue." The company announced the ground halt in a tweet at 9:06 EST and apologized for the inconvenience.
However, stranded fliers lashed out at the company both online and in person. "This has been the worst customer service experience and worst flying service ever experienced in 30+ years," one traveler said. The airliner offered to waive change fees and provide travel waivers to affected passengers, but the damage had been done. After about an hour, the company announced that it had lifted the ground stop and resumed flights.
The Federal Aviation Administration (FAA) said that no international flights were stopped by the computer glitch but was unsure of how many domestic flights had been affected.
What's also uncertain is how much the ground halt will end up costing United. The reparations paid to travelers, the loss of business, and the potential drop in unit prices could certainly add up. Experts estimated that Southwest lost between $54 million and $82 million as a result of its computer glitch in July, so the losses might not necessarily be chump change.
---