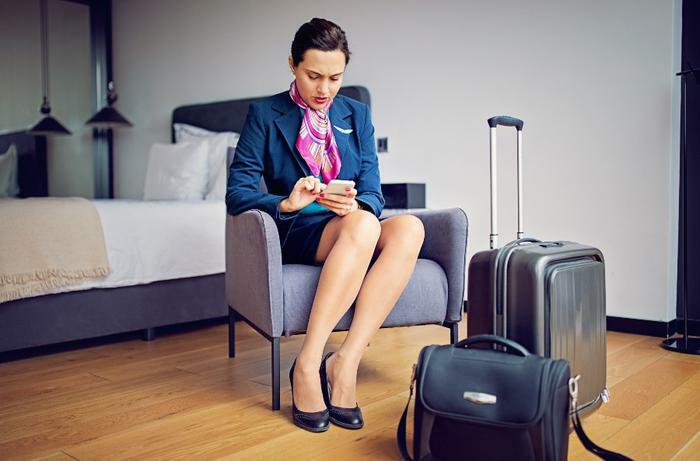 A labor union has filed a grievance against American Airlines, saying flight attendants and pilots aren't getting to "safe and comfortable" hotels during their layovers due to inadequate arrangements on the part of the carrier. 
The Association of Professional Flight Attendants (APFA), a labor union representing 40,000 American Airlines pilots and flight attendants, said hotel booking and transportation delays have caused some crew members to miss out on sleep. 
"We have Flight Attendants sleeping in airports and outside of baggage claim due to the company not providing hotel accommodations in a timely manner," APFA National President Julie Hedrick said in a statement. "Crew rest is being impacted, and clean, comfortable, and quiet rooms are not being provided for required rest."
APFA says flight attendants are encountering transportation issues that prevent them from getting to designated crew hotels. In some cases, flight attendants have allegedly had to get an Uber to a layover hotel only to find that there weren't enough rooms available or that conditions were "unsuitable." 
The issue of crew and pilots sleeping in the airport and outside of baggage claim has now reached "unprecedented, unacceptable levels," the union claims.
American responds 
Under its contract with flight attendants, American Airlines is required to ensure that crew is put up in safe hotels with minimum standards, such as no rooms on the ground floor and no adjoining rooms. The airline said in a statement that it's investigating the matter. 
"Taking care of our crewmembers while they're away from home is a priority for American," the company said.
APFA is asking the airline to grant additional unspecified relief to flight attendants that have been affected by the issue. 
Travelers also cite hotel problems
American Airlines pilots and crew members aren't the only ones who are having trouble getting hotel accommodations. Several ConsumerAffairs reviewers have also reported difficulties when it came to staying at hotels after a flight cancellation or alteration. James from Norwood, Mass., said he had to foot the bill for travel and lodging accommodations after his flight was canceled.
"I feel that American who wouldn't even refund the canceled flight should pay for the rental car and hotel," he said in his review.
Misty from Calera, Ala., faced a similar situation after supposedly being stuck in the airport for over 14 hours after the cancellation of her connecting flight. 
"They shut down the line at 2am & they were very ugly about it saying that the workers had to go home because they had been there since the morning. Well, we were paying customers who had been there for 14 hours with no kind of answers. We weren't offered a hotel because they were full. We were offered nothing by American including answers," she said.