---
Stuttering is a speech disorder that has been around forever but doesn't get much attention. At least, it hasn't until recently.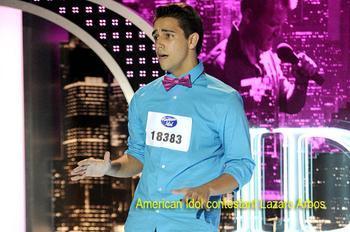 When someone who stutters speaks, their sounds, syllables or words are repeated, or held longer than normal. These problems cause a break in the flow of speech.
For obvious reasons, many stutterers shy away from the spotlight. An exception, however, emerged recently on the Fox series American Idol. Contestant Lazaro Arbos stuttered when he spoke to the judges but sang beautifully. The network featured Arbos in the promo below.
But Arbos' singing abilities are not unusual for people who stutter. Mel Tillis was a major country music star in the 1970s who had a stutter when he spoke.
"Many of the behaviors that reduce stuttering in daily speech overlap with behaviors found in singing," said Nan Bernstein Ratner, a University of Maryland professor and co-author of a textbook on stuttering. "Speech disruptions that interfere with the normal flow of communication that lead to stuttering appear to be smoothed during singing because of the way syllables and words are linked together during this process."
The King's Speech
In the Academy award winning film The King's Speech, a therapist working with King George VI employed singing as a way to help the British monarch manage his stuttering. Ratner says when humans attempt to produce a musical note, the larynx is used more gently than during spoken speech. Singers are also focused on hitting each note properly, and use a tempo or rhythm.
"This is the same reason speech pathologists have people who stutter use a 'gentle onset' as one speech Ratner said.
Other famous people have learned to cope with stuttering. Actor James Earl Jones, the voice of Star Wars' Darth Vadar and countless commercials, told London's Daily Mail in 2010 that he stuttered as a child and was virtually mute for eight years.
Stuttering usually begins in childhood. According to the U.S. National Library of Medicine (NLM), part of the National Institutes of Health (NIH), about five percent of children between the ages of two and five will develop some stuttering during their childhood. It could last a few weeks or a few years.
Can run in the family
For about one percent of children, however, the stuttering does not go away and may actually get worse. It can also run in families, since genes have been identified that cause stuttering. NLM says there is also evidence that stuttering may be a result of some brain injuries, such as stroke or traumatic brain injuries.
Stuttering may rarely be caused by emotional trauma. called psychogenic stuttering. Stuttering is more common in boys than girls and tends to persist into adulthood more often in boys than in girls.
Adults seeking a "cure" should use caution, says Judith Maginnis Kuster, a professor emeritus from Minnesota State University, Mankato, in the Department of Speech, Hearing and Rehabilitation Services. She operates a website, The Stuttering Homepage, that warns consumers that looking for a "cure" for stuttering in adults is generally not realistic.
"Looking for ways to manage stuttering effectively is realistic," the website says. "Consumers are warned that programs guaranteeing a 'cure' should be thoroughly studied before spending any money on them."
There are a number of effective therapy programs to help those who stutter manage their condition. Consumers can find them at the National Stuttering Association and other support groups.
---