---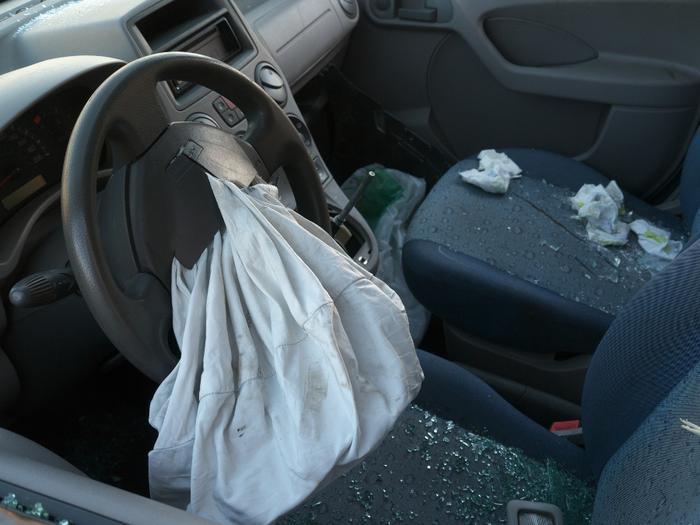 After months of negotiations, Takata Corporation today agreed to recall 34 million airbags that can explode and spray shrapnel into cars' passengers compartments. Six deaths and 100 injuries have been attributed to the defect so far.
The agreement between Takata and the National Highway Traffic Safety Administration (NHTSA) comes after Takata at first denied the airbags were defective and at one point even questioned NHTSA's authority to order a recall.
"From the very beginning, our goal has been simple: a safe airbag in every vehicle. The steps we're taking today represent significant progress toward that goal," said NHTSA administrator Mark R. Rosekind. He added that the $14,000 per day fine that the agency has been levying against Takata would be lifted now that it has agreed to cooperate.
Rosekind acknowledged that it could take years to recall and replace all of the defective airbag inflators and to thoroughly test replacements. He said consumers should continue to drive their cars while checking with their dealers on the progress of the recall for their particular vehicle. 
While conceding the fix is not perfect, safety officials tried to put the best face on the situation by stressing that Takata was now cooperating and auto manufacturers are dedicated to conducting recall campaigns as effectively as possible. 
"Up until now Takata has refused to acknowledge that their airbags are defective," U.S. Transportation Secretary Anthony Foxx said at a press conference to announce the widened action. "That changes today."
Too little, too late
An attorney for some of the motorists allegedly harmed by the airbags says today's action comes too late for those already killed and injured.
"After deaths, injuries and months of scrutiny – Takata and the National Highway Traffic Safety Administration have finally taken a step in the right direction," said attorney Rich Newsome who represents seven victims, including Corey Burdick, a Florida man disfigured and blinded in one eye by shrapnel from an exploding airbag in May 2014.
"This expanded recall marks a victory for consumer protection – but lawmakers and manufacturers still need to enact serious and lasting changes to our nation's recall procedures to prevent crises like this one from occurring again," Newsome said.
"Hopefully this summer, as we begin taking depositions for our seven clients in their state court injury cases, we will uncover answers about the root cause of the defect and exactly what Takata knew and when they knew it."
"Clear path forward"
Takata, meanwhile, said today's consent order with NHTSA "directly and preemptively" addresses the problem. 
"We are pleased to have reached this agreement with NHTSA, which presents a clear path forward to advancing safety and restoring the trust of automakers and the driving public," said Shigehisa Takada, Chairman & CEO of Takata Corporation. 
Noting that the violent airbag deployments tend to occur in older cars in high-humidity areas, Takata said it had "devoted tremendous resources to these efforts with some of the leading researchers in this field worldwide" but said it is "a complex issue which takes time to fully evaluate."
Takata said the "potential for this long-term phenomenon to occur was not within the scope of the testing specifications prescribed by the vehicle manufacturers for the validation and production of the subject inflators as original equipment."
17 million more
The actions expand regional recalls of Takata passenger-side inflators, currently limited to areas of high absolute humidity, to nationwide recalls involving more than 16 million vehicles. They also expand the current nationwide recall of driver-side inflators to more than 17 million vehicles, the Transportation Department said.
The additional recalls will likely be prioritized based upon risk, with the vehicles that present the greatest risk in terms of age and geographic location to be serviced first, officials said.
"From the very beginning, our goal has been simple: a safe air bag in every vehicle," said NHTSA Administrator Mark Rosekind. "The steps we're taking today represent significant progress toward that goal. We all know that there is more work to do, for NHTSA, for the auto makers, for parts suppliers, and for consumers. But we are determined to get to our goal as rapidly as possible."
The Department has established a new website, www.SaferCar.gov/RecallsSpotlight, to provide regular updates on the status of this and other recalls and of NHTSA's investigation.
Thanks
Keep an eye on your inbox, the lastest consumer news is on it's way!
Unsubscribe easily whenever you want
---