---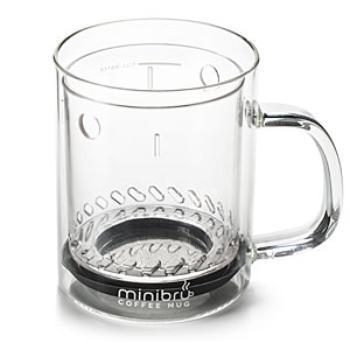 We're only a couple of weeks away from the big present-giving day, but fortunately there's still a good amount of time to get those last few gifts for the people on your list.
Once the toys for the kids are out of the way, and your spouse or mate has been taken care of, there may be a college kid in your life that needs some things to take back to school with them, so we compiled a few unique items that fall outside the usual college gifts like a mini-fridge or hotplate that they probably already have anyway.
And the best thing: All of these gifts are under $50.
First, for all of those late nights and early mornings, because we all know there are tons of those in college, there's the Minibru Coffee Mug by the company ThinkGeek. At only $24.99 on the company's website, the Minibru allows you to brew a single cup of coffee inside the actual cup, instead of using a machine. And here's how it works:
You just plop in your ground coffee to the marked line at the bottom of the mug, pour hot water to the upper marked line at the top of the mug--wait a couple of minutes--then you lower a cylinder into the cup and you have a hot mug of Joe pretty much instantaneously. (Yes, it is basically a one-cup French press).
The mug itself holds 12 ounces of coffee and is made of see-through glass while the heat cylinder is made of a plastic material.
The Minibru is safe to run through the dishwasher and perfect for the coffee drinking student that needs to rush out first thing to class, but has limited time. Although the mug is dishwater safe, the cylinder has to be hand washed, but everything is very easy to clean, says the company.
The Minibru is a great addition to any college dorm room, and will serve the student who likes to stay caffeinated while on the go.
WonderWash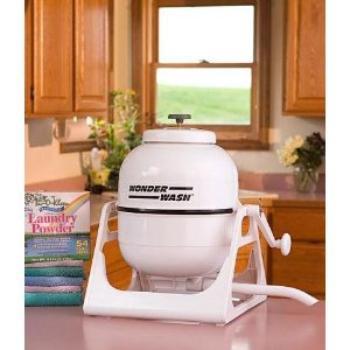 Another useful appliance for the dorm room is the WonderWash, made by the company The Laundry Alternative, and it's a mini washing machine that's small enough to fit on a countertop or bathtub and allows you to do 5-pounds of laundry per wash per cycle.
Amazon sells the washer for only $42.95 and it's extremely simple to use.
All one has to do is open the lid on the washer, put in the dirty clothes, add about a quarter cap of detergent and turn the hand lever for about five minute, which activates the machine. Soon after, your clothes come out looking clean and spiffy.
What's also cool about the WonderWash is its huge time-saving ability, as one can quickly clean something they wish to wear, without trekking down to the campus Laundromat that's often crowded and requires change or money to be deducted from a student card.
The table-top washer also works much faster than having to wait a full 45- minutes to wash something and it suits those interested in water conservation, as it only uses a very small amount.
Also, instead of having to put only one or two garments into a regular sized washing machine and using unnecessary amounts of water, you can just throw them into the Wonder Washer and not waste water at all.
Air-drying is the way to go for this miniature washer, but if you'd rather dry clothes quickly you can also pick up the Mini Countertop Spin Dryer also made by The Laundry Alternative.
MyBlend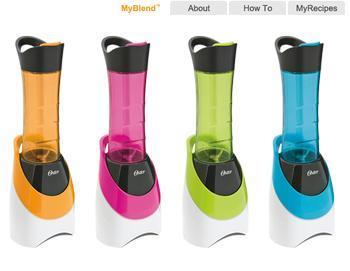 The MyBlend Blender, made by Oster, is only $30.00 and is part blender, part sports bottle for when students want to make a health drink or smoothie and bring it to the gym or to class.
The tiny blender is quick and easy to use, since liquids are able to be blended with just a touch of a button and it comes in cool see through colors like purple neon green and hot pink that will certainly add a little pizazz to any dorm room.
The miniature mixer is 250 watts, which is powerful enough to crush ice, and you can purchase it on the company's website and take advantage of the free shipping offer. And since MyBlend is so small and lightweight it won't take up large amounts of space on a dorm room desk or countertop and its quiet enough so roommates won't be disturbed while it's being used.
It really seems that Oster designed the blender especially for dorm rooms or small living quarters where noise and small spaces are sometimes a challenge to deal with, especially when living with other people.
Table Tennis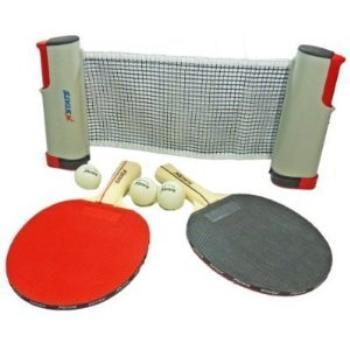 And for those times when a student may not want to leave their dorm room but still wants to have some fun and entertainment, there's the Anywhere Table Tennis Ping Pong Deluxe Set, which is only $10.00 and comes with two paddles, three Ping-Pong balls and a miniature net that can stretch out to five feet if need be.
The net can also attach to any table or surface by its two grips and is light-weight and extremely portable if students want to have an intense game of Ping-Pong in or outside of their dorm room. The set also comes with a carrying bag to make transporting easy.
So the next time the campus game room is filled to capacity and you don't feel like waiting in line to play a game of Ping-Pong, the Anywhere Table Tennis set is a fun gift to give college students this year or any year,
In fact, all of these gifts are fun, and more than likely the person receiving these gifts will never see them coming.
Thanks
Keep an eye on your inbox, the lastest consumer news is on it's way!
Unsubscribe easily whenever you want
---