---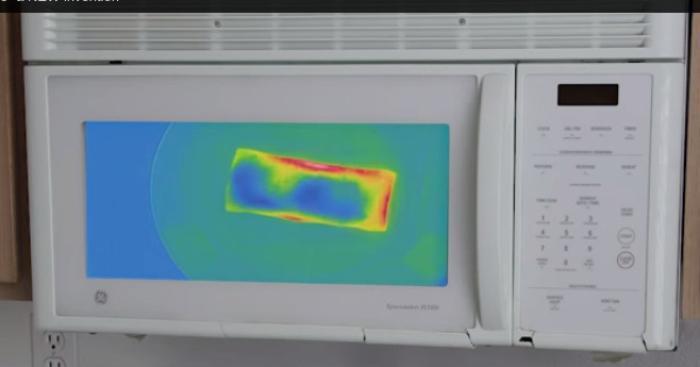 Modern medicine has made it so you can actually see your child before it is born via an ultrasound and now there is an ultrasound of sorts for your food in the microwave. It's called the Heat Map Microwave. (It is a prototype at this moment.)
Microwaves are quick and easy but you never can really tell if your food is cooked just right. You usually have to open the door and do the finger test, or take a bite and burn your tongue.
Leave it to a former NASA engineer who became an inventor to help with the problem. Mark Rober has invented a thermal vision display of your food as it cooks. He says that infrared cameras can basically see the temperature of things and they are much cheaper than years ago.
He put the infrared lens on top of the inside of the microwave and then the front of the microwave becomes a screen where you can see how you're food is doing. No guessing -- you will know exactly when it is cooked to perfection.
As your food moves from cold to hot, it goes from blue, to red and to white hot when it's time to pull it out. Alternatively the microwave could be programmed to switch off automatically when it reaches this point. And of course you can see it on your phone if you happen to be in the next room. It can be streamed through your mobile device, Wi-FI or bluetooth, as he explains in this video:
The microwave hasn't really had a facelift since Amana introduced the first countertop version in 1967. It may have increased in power but that's about it.
Of course, Rober's device is still a dream. He still needs the money to start production. He's hoping consumers will sign up at his website saying they support the idea, signaling to investors that it's a worthwhile project.
---