---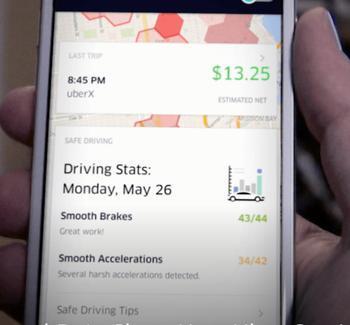 Uber will be looking even more closely over its drivers' shoulders as its latest app rolls out -- it will be monitoring its drivers' behavior on the road, measuring speed, braking and other data through the motion sensor in the drivers' smartphones.
"We believe that technologies like Uber provide an incredible opportunity to improve road safety in new and innovative ways — before, during and after every ride," said Joe Sullivan, Uber's chief security officer.
Starting today, Uber said drivers in four cities will be shown a summary after each trip that shows how smooth their driving was, with separate scores for acceleration, braking, and speed.
The apps won't wait until the trip is over to warn drivers about their speed; it will alert them immediately if it detects that they are going over the speed limit.
There are, of course, many metro areas where the speed limit is barely observed at all, and anyone driving at the posted speed is likely to be tailgated and harrassed, so it remains to be seen how well that feature plays out in practice. 
DWI arrests
Uber is also crediting itself with reducing drunken driving incidents. As the July 4th holiday looms, Uber studied drunken driving arrests in Atlanta and found that the number of arrests has gone down in nearly direct proportion to the number of Uber rides.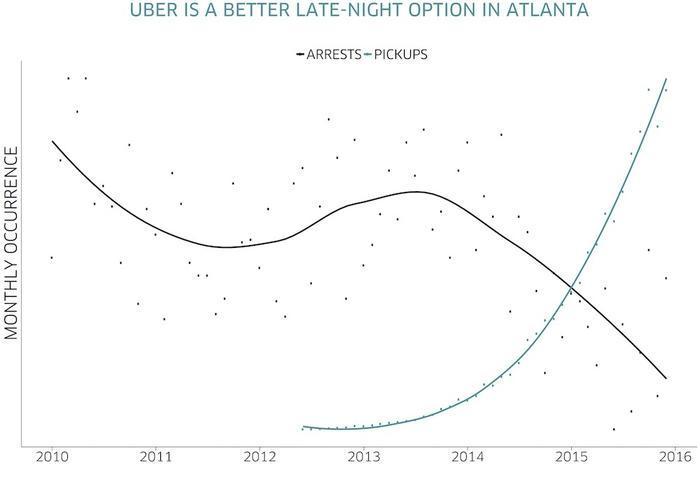 Uber also released a survey that it said produced these results:
90% of riders say that Uber helps reduce drinking and driving
80% of riders say that Uber has helped them personally avoid drinking and driving
Uber is riders' top choice for trips when they have "had too much alcohol to drive"—compared to other options such as public transportation, taxi, other ridesharing services, and walking
---