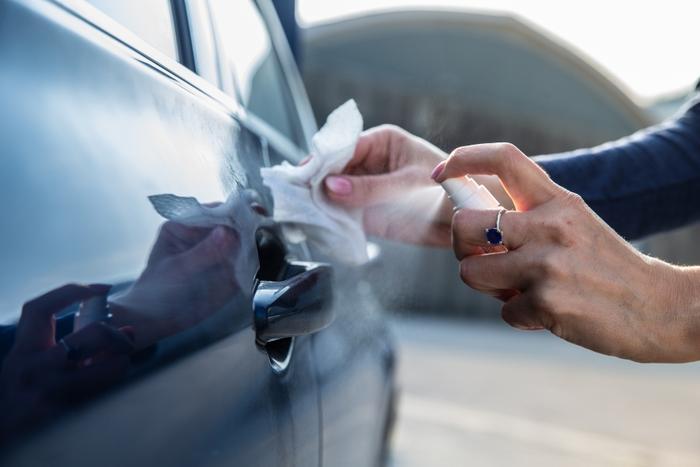 To combat the ongoing threat of COVID-19, Uber will start asking passengers in certain cities to disinfect the backseat of the vehicle they ride in. 
The ride-hailing giant has partnered with Clorox to distribute nearly 600,000 canisters of the company's disinfecting wipes to drivers in three pilot cities: Atlanta, Chicago, and New York City. 
Passengers will see an in-app prompt alerting them to the presence of the wipes in the vehicle. Uber will also tell riders which "high touch" surfaces in the car would most benefit from cleaning before and after every trip. 
Clorox said passengers should disinfect seat belt buckles, window controllers, and door handles, while drivers should wipe down the steering wheel, gear shifts, cup holders, and door handles on the front of the vehicle.
Cleaner vehicles
Coronavirus cases are continuing to rise in many U.S. states, to such a degree that some states have paused their reopening plans. As of Tuesday, 2.5 million cases of the novel coronavirus have been reported across the nation, and more than 125,000 fatalities have occurred.  
"As we navigate a new normal and cities continue to reopen, we want all Uber users to travel with confidence. That starts with clean cars," Uber wrote in a blog post on Tuesday. "Cleanliness is a shared responsibility and riders should also be making an effort to sanitize the frequently touched areas in the back of the car to help create a cleaner environment for themselves, the driver, and the next passenger."
Last month, Uber revamped its app to include safety guidelines for passengers and drivers. The company now requires drivers and passengers to confirm that they're wearing a face mask prior to getting into the vehicle. Additional recommendations include keeping the windows down when possible and leaving the front passenger seat unoccupied.