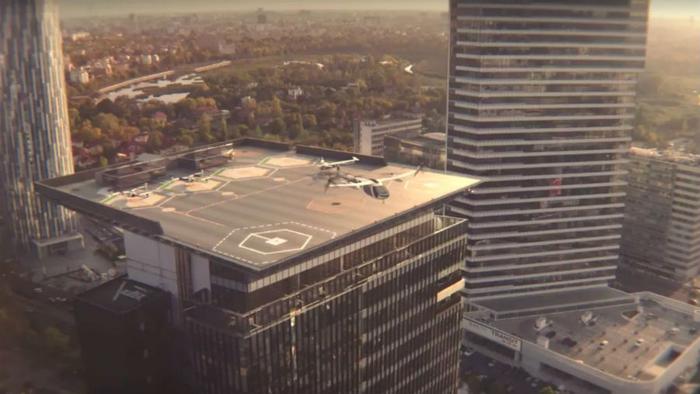 At its second annual Elevate summit in Los Angeles this week, Uber gave a preview of what it believes air taxis could look like.
One was an all-electric multi-rotor aircraft that uses stacked rotors to lift off vertically, but it can travel at more than 186 mph because of its airplane-like body. Another aircraft uses eight horizontal rotors to lift off vertically from rooftop sky ports (called "vertiports").
"We think cities are going to go vertical in terms of transportation and we want to make that a reality," Uber CEO Dara Khosrowshahi told CBS News.
Uber revealed that it's partnering with five aerospace companies -- Embraer, Pipistrel, Karem, Aurora Flight, and Bell -- to develop its flying taxi service, which it plans to start testing in 2020.
A challenging project
California-based Karem is the latest aircraft manufacturer to partner with Uber to develop its flying taxis. The company's design involves light but rigid rotors that can reposition depending on whether the aircraft is taking off or flying.
Founder Abe Karem, a pioneer in drone technology, said this particular project is challenging, because "almost everything is wrong in helicopters for what you have to do. You have to reinvent it." He said the project is, "maybe slightly easier than nuclear physics but not by much."
Uber is also partnering with Boeing subsidiary Aurora Flight Sciences. Aurora said it is focusing on autonomous technology. Uber has said that once a piloted version of the flying taxi is successfully off the ground, self-flying taxis will be the company's next goal.
Fort Worth-based Bell (formerly Bell Helicopters) debuted its electric air taxi cabin concept at CES earlier this year. Bell described the interior cabin it designed as a "comfortable, relaxing space" that acclimates the passenger to the qualities of vertical flight.
Brazilian aircraft manufacturer Embraer is also working with Uber on the project. "This is a great concept but is a big challenge, no question about that," said CEO Paulo Cesar Silva.
Slovenia-based Pipistrel (now Pipistrel Vertical Solutions) used the Elevate summit to unveil a concept of its aircraft. The aircraft will be able to go longer distances at higher speeds than previous models and will be part of a "family of eVTOL" that includes three other concept aircraft, according to director of research and development Tine Tomazic.
Uber has also partnered with NASA to develop technology to control air traffic and prevent crashes. The company said it plans to start demonstrations of its flying taxi service in 2020 with pilots in Dubai, Dallas, and Los Angeles.