---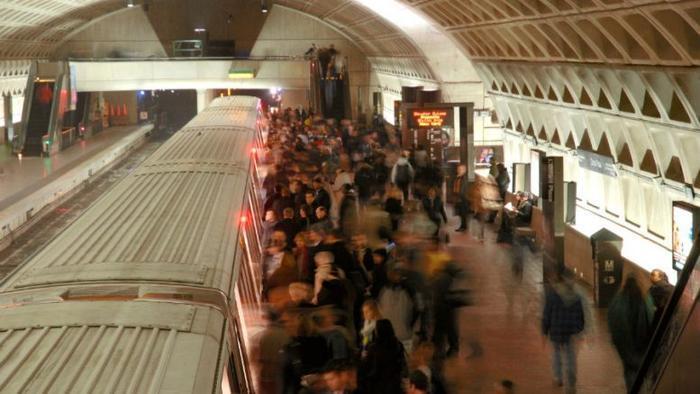 The trouble with mass transit, of course, is that it is run by the government. What's wrong with that? You need only look at the Washington D.C. Metro system. Just a few decades ago, it was a bright and shining multi-billion-dollar symbol of what a subway system could be.
Now it's a dangerous, broken-down, unreliable symbol of what a subway system becomes when it's not properly maintained. A new general manager and federal safety officials are planning a yearlong series of sweeping shutdowns to do emergency repairs, threatening to paralyze a region that already has some of the worst traffic congestion in the country.
There is much hand-wringing throughout the D.C. region, which includes parts of Virginia and Maryland as well as the District of Columbia, as commuters ponder life without Metro.
The system is more than just an urban subway. As it rattles into the suburbs, it emerges above-ground and becomes a commuter railway -- offering expensive rides on crowded trains to the legions of federal workers and contractors who are the region's lifeblood and who persist in living in far-flung neighborhoods that put them at the mercy of the transit and highway bureaucrats.
Innovative disruption
It's a disaster in the making, but it's also an opportunity for Uber and other disruptive innovators to show what they can do -- at no cost to taxpayers. Uber is announcing today a $10 million initiative to promote its carpooling service and to expand service into all areas covered by Metrorail.
Of course, $10 million probably wouldn't be enough to fix one of Metro's chronically broken escalators, but Uber says it will be enough to put lots more Uber cars on the road, incentivize more drivers to work longer hours, and steer riders towards UberPool, its car-pool option.
Government types, like Rep. Gerry Connolly (D-Va.), who represents parts of Northern Virginia, are skeptical.    
"Candidly, I don't know that the existing infrastructure -- Uber and private taxicab companies and so forth -- frankly have the capacity that's going to be required," Connolly said, according to Politico. He didn't mention, of course, that nobody thought about how they would maintain the Metro system before spending billions of dollars to build it in the first place.
Surcharge fears
If Uber has an Achilles' heel, other than having to share the region's miserable street system with everyone else, it is its propensity to slap riders with surcharges when demand is high.
Some riders paid 3.9 times the usual rate for an UberX ride during a March 16 emergency Metro shutdown. Uber isn't saying that won't happen again, but it is saying it is planning to "play it by ear" as the region adjusts to a "new normal."
The Washington area has always had a high percentage of carpoolers, thanks to high-occupancy (HOV) lanes on many of its freeways. The system is somewhat haphazard. Would-be riders, called "slugs," gather at informal but well-known pick-up spots and passing drivers, looking to zip along in the HOV lanes, pick them up.
It sounds scary, but it actually works quite well, except when government interferes with it and tries to restrict pick-ups in selected locations. Most slugs say they get a faster and much more comfortable ride in someone's back seat than they would crammed into a jolting, lurching Metro train. Not to mention that most such slug rides are free. 
If Uber's slick software can put riders together with empty seats in UberX cars, it could help Uber rise above some of the bad press it has received in places like Austin, Texas, where it recently had a much-publicized spat with local officials. 
It would be especially sweet for Uber if it could demonstrate -- directly under the nose of the federal government -- that it and other ride-hailing/sharing services can provide adequate transit without investing billions of taxpayer dollars and setting up bloated, slow-moving bureacracies to mismanage it.
---