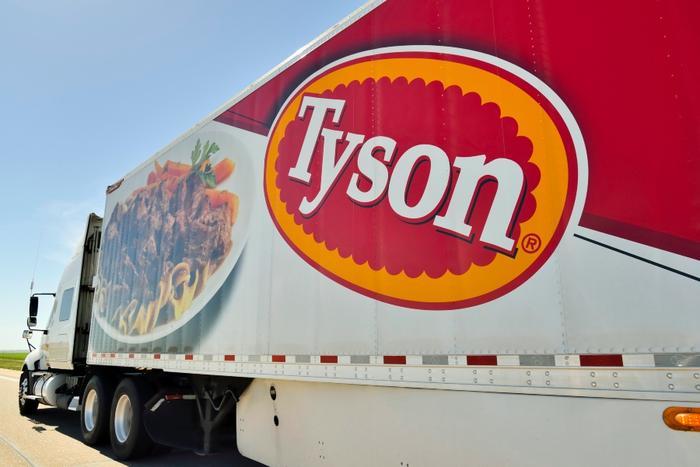 Tyson Foods has temporarily shuttered its pork slaughterhouses in Storm Lake, Iowa, after 555 employees -- 22 percent of the plant's workforce -- tested positive for the coronavirus.
The closure comes only a month after President Trump ordered meat processing plants to keep their doors open in the face of depleted meat counters at grocery stores and to prevent supply chain risks. For Tyson, the closure comes only a week after 257 of the 1,282 team members -- 20 percent of the workforce -- at its Temperanceville, Virginia poultry facility tested positive.
Tyson says it's doing what's required
Tyson spun the Storm Lake closure in a more positive light, saying it was partly due to a delay in COVID-19 test results and employee absences. Despite the setback, Tyson says it will be back up and running in the near future. In a statement, the company insisted it will resume operations next week after it conducts "additional deep cleaning and sanitizing of the entire facility" and that it will conduct daily clinical symptom screenings.
Tyson officials also assert that it's doing everything that the Centers for Disease Control and Prevention (CDC) and Occupational Safety and Health Administration (OSHA) ask companies like theirs to do. In fact, the company says it "meet(s) or exceed(s) CDC and OSHA guidance for preventing COVID-19."
The company also noted that it's doubling its "thank you" bonus for frontline workers to $120 million. The bonus plan supports members who cannot come to work because of illness or childcare issues related to COVID-19.
Concern continues
While Tyson might think it's doing all that's necessary, the United Food and Commercial Workers International Union (UFCW) thinks meat companies and federal officials need to do even more to protect workers. 
It points to a statistic that shows more than 3,000 infections and 44 deaths have occurred among U.S. meatpacking workers, and those numbers keep rising. 
"Too many workers are being sent back into meatpacking plants without adequate protections in place, reigniting more outbreaks in the plants and our communities," Nick Nemec, a South Dakota farmer and cattle producer from Holabird, SD, said in a news release.
The ripple effect
Another UFCW member also raised the point of the ripple effect. 
"Safe food starts with safe workers," said UFCW Local 304A member John Massalley who works at Smithfield in Sioux Falls, SD. "When meatpacking plants struggle to contain this virus, it's not just the workers inside like me who are at risk, family farmers and ranchers are too."
"If they don't get protective equipment and safe working conditions, the food system will remain vulnerable and we all lose – producer, workers and consumers.Regular testing is critical to stopping future outbreaks, keeping workers safe and protecting our food supply," added Colorado rancher Kathryn Bedell.