---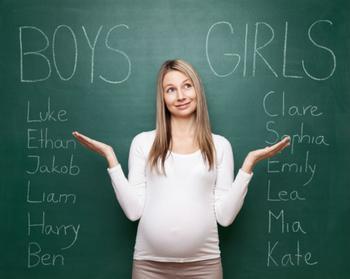 Parents often spend hours pouring over baby naming books and websites in an effort to find just the right name for their little one.
It's an important decision with lasting consequences. After all, it's the name you'll spend a lifetime calling out and the moniker your child will likely be saddled with for the rest of their life.
But these days, new moms and dads are finding baby name inspiration in some strange places. Instead of picking a name from a list or book, parents are tapping into their patriotic spirit for inspiration. Some are even going so far as to shell out thousands of dollars to have a professional name their baby. 
Inspired by politics
Ahead of the upcoming presidential election, a few names seem to have taken up permanent residence in the headlines. Those names also seem to have ended up on the noggins of parents tasked with naming their new baby.
BabyCenter analyzed over 15,000 names registered on its site and found that politics may be responsible for casting the spotlight on several newly popular names.
The name Hillary has risen 142% since this time last year, and Bill has seen a 113% increase in popularity. Trump and his family have also inspired baby names, although to a lesser extent. The name Donald rose 8%, Melania by 36%, and Ivanka saw a 4% increase in popularity.
Not much happening on the Bernie front, however. The name Bernard fell by 50% and there have been no boys or girls named Bernie in the past six months, according to the site.
Professional baby namers
Choosing a baby's name is a big decision. But is it a decision worth hiring a professional to help with? According to some parents, the answer is yes.
More parents are enlisting the help of professional baby namers, whose services can cost a pretty penny. In fact, one firm in Switzerland charges roughly $29,000 to devote several weeks and 100 hours to naming your baby, Bloomberg reports.
In addition to dedicating staggering amounts of time to the decision, professional baby namers also screen names for other qualities, such as whether the name has been trademarked or whether it has "an aggravating past."
But professional baby naming experts also realize that a name is personal. That's why baby namers like Sherri Suzanne, owner of New York's My Name for Life, also make sure a name fits with a family's background.
"While some criteria, like name popularity, can be measured and ranked objectively, I find that other qualities, like morality of a name or likelihood for success, are very subjective and vary from person to person, community to community and particularly generation to generation," she told Bloomberg.
---