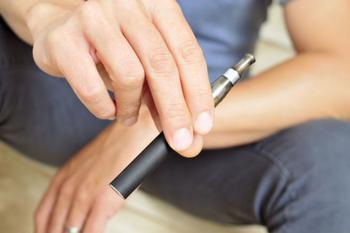 A study by researchers at the Lawrence Berkeley National Laboratory (Berkeley Lab) has found that emissions from e-cigarettes are not consistent, affected by things like temperature, type, and age of the device.
The say their discovery may prove helpful to both manufacturers and regulators, working to minimize negative health effects from "vaping."
The Berkeley Lab study found that the thermal breakdown of propylene glycol and glycerin, two solvents found in most "e-liquids," can be unstable and lead to emissions containing toxic chemicals, including formaldehyde.
"Advocates of e-cigarettes say emissions are much lower than from conventional cigarettes, so you're better off using e-cigarettes," said Berkeley Lab researcher and the study's corresponding author Hugo Destaillats.
The researchers say that might be true in the case of heavy smokers who have not been successful in their attempts to quit. But they say e-cigarettes are still unhealthy, even though cigarettes are worse.
Label discrepancy
Meanwhile, researchers at North Dakota State University (NDSU) conducted a study of the nicotine levels found in e-cigarettes liquid nicotine containers, comparing that amount to what was listed on the label. They say they found 51% of labels don't accurately reflect the amount of nicotine they contain.
For the project, the researchers purchased liquid nicotine at random at 16 North Dakota stores. In one case they said the actual amount of nicotine was 172% higher than the amount listed on the label. As an added concern, the researchers said the majority of containers did not come in child-resistant packaging.
"Mislabeling of nicotine in e-liquids exposes the user to the harmful effects of nicotine," said study author Kelly Buettner-Schmidt, associate professor of nursing at NDSU. "In areas without child-resistant packaging requirements, children may be exposed to harmful nicotine."
Danger to children
Ingestion of nicotine by a child is hazardous, with the level of severity depending on the size of the child and the amount ingested. The result can be nicotine toxicity, accidental poisoning, or death.
Last August, North Dakota outlawed the sale of e-cigarettes and tobacco to those under 18. The law also mandates child-resistant e-liquid containers, although the amount of nicotine content remains unregulated.
This August, the U.S. Food and Drug Administration (FDA) is expected to issue final regulations that prohibit the sale of e-cigarette products to anyone under 18. The proposed rule would also outlaw free samples, false or misleading advertising of e-cigarette products.