---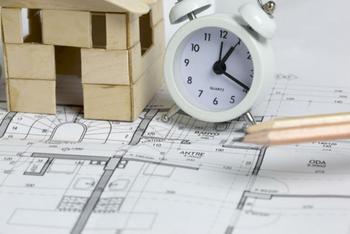 Home sales are suddenly on the decline, but not for the reason you might think. There continues to be plenty of willing buyers, but they just aren't finding that many homes for sale.
Lawrence Yun, chief economist for the National Association of Realtors (NAR), admits that affordability is becoming a problem, with many housing markets showing strong year-over-year price increases.
"The main issue continues to be a supply and affordability problem," Yun said in a release announcing a drop in February's existing home sales. "Finding the right property at an affordable price is burdening many potential buyers."
Yun notes that the total housing inventory in February was 1.1% lower than it was in February 2015. There are two main reasons for that.
Fewer homeowners are putting their existing homes up for sale, and homebuilders are building fewer new homes. With the economy looking up a bit, there is an increase in the number of people who would like to buy a home, but not an increase in the number of homes for sale.
New home construction
First, let's look at new home construction – and for data we'll go to the U.S. Census Bureau. It has compiled the numbers on single-family home construction at a seasonally adjusted annual rate from 1968 through this year.
At the beginning of 2002, as the housing bubble began to inflate, new home construction was occurring at an annual rate of about 1.3 million new homes. By the middle of 2003 it was up to 1.4 million.
Home construction peaked in mid 2006, occurring at a seasonally adjusted annual rate of 1.7 million homes. Then, the financial crisis of 2008 hit.
By January 2010, the annual rate of new home construction had plunged to 448,000 – down 75% from the peak. At the beginning of 2016, the rate had only grown to about half of what homebuilders were producing in 2002.
1982 building rates
In fact, you have to go back to 1982, when interest rates were 20%, to find a time when homebuilders were putting up as few houses as they are now. Of course, the population of potential homebuyers is much bigger now.
If there are fewer new homes being built, the problem is compounded by the fact that there are fewer existing homes for sale. It's not clear why current homeowners aren't moving up, but one reason might be the still significant number of people who owe more on their mortgage than their home is worth.
Earlier this month Zillow reported 13.1% of homeowners with a mortgage had negative equity, blocking them from selling without a loss. More than 820,000 underwater homeowners owed more than twice as much on their mortgages as their homes are worth.
"Things are moving in the right direction, but some owners are still deeply underwater," said Zillow Chief Economist Dr. Svenja Gudell. "As we move into the home shopping season, inventory is already low, and negative equity is keeping potential additional stock from becoming available."
That means consumers looking for their dream home this Spring may be disappointed. Homes will cost more and there will be far fewer to choose from.
---