---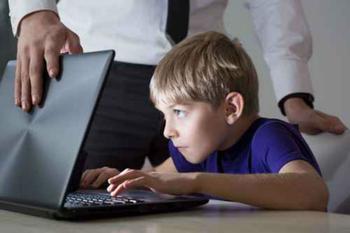 It is often felt that giving kids a two-minute warning prior to having them step away from the screen helps soften the blow. According to new research, however, this logic may be flawed.
A University of Washington study found that young children (aged 1 to 5) who were given a two-minute warning that "screen time" was about to end became the most upset. The researchers said they had anticipated the opposite reaction to this widely used parenting tool.
"We were really shocked -- to the point that we thought 'well, maybe parents only give the two-minute warning right before something unpleasant or when they know a child is likely to put up resistance,'" said lead author Alexis Hiniker, a UW doctoral candidate in human-centered design and engineering, in a statement.
Hiniker adds that despite taking measures to control for this possibility, "every way we sliced it, the two minute warning made it worse."
59% neutral reactions
The findings were based on interviews and a diary study of 28 families who documented the type of screen time kids engaged in and how they transitioned from it.
In sorting through the results, the researchers discovered that the cessation of screen time gave way to neutral reactions the majority (59%) of the time. Nineteen percent of transitions actually spawned a positive reaction and 22% yielded a negative reaction.
But even though transitions usually go smoothly, just one negative reaction from kids can influence how parents deal with transitions in the future.
"If one out of five experiences is unpleasant enough that parents are always bracing themselves and worried about it, that colors their perceptions," said senior author and associate professor of human-centered design and engineering Julie Kientz.
Kientz believes technology could help with this problem.
Warnings from technology
Certain things -- including having routines, turning off devices at a natural stopping point, or having the battery die -- did help smooth the transition between the pixelated world and the non-pixelated one. 
Because of this, the researchers believe that two-minute warnings from technology itself might actually be helpful. Kientz says this is because kids become much more accepting "once you take that parental withholding component out of it."
Parents could have devices deliver the news by using apps to set a specific amount of screen time. To push the transition from neutral to positive, parents could let kids pick an activity for after screen time. The app could even remind children when it's almost time to end screen time and do the activity.
A paper detailing the findings of the study can be found here.
---