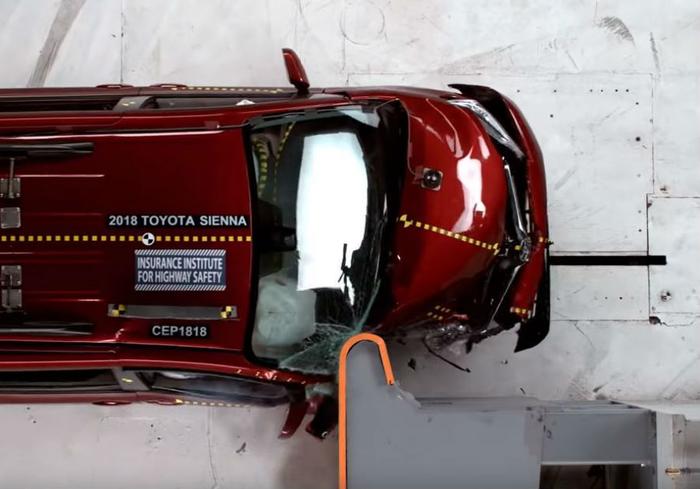 Consumers shopping for a minivan often have safety in mind since these vehicles are mostly used by young families.
With that in mind, the Insurance Institute for Highway Safety (IIHS) put three popular minivans through the paces and gave the Honda Odyssey and Chrysler Pacifica its Top Safety Pick rating, but the third vehicle, the Toyota Sienna, fell short of the rating's standard.
The Odyssey did best in the side overlap crash tests with what the judges called a "strong" performance. The Pacifica squeaked by with an "acceptable" rating. But the Sienna's performance was characterized as "marginal."
When just the front corner of a vehicle strikes another car or object, that's considered a small overlap crash. They're fairly common and were responsible for many deaths and serious injuries before automakers focused their efforts on making these parts of the vehicle more sturdy and secure.
The video below, produced by IIHS, illustrates it very well.
Significant improvements
IIHS has tested vehicles for how they protect front seat occupants since 2012 and says carmakers have made significant improvements. Getting at least an acceptable rating on overlap crash tests is a requirement for any vehicle to earn an IIHS Top Safety Pick rating.
"In our latest passenger-side tests, we didn't find any performance issues with safety belts or airbags like we did when we evaluated small and midsize SUVs earlier this year and midsize cars last year," said David Zuby, IIHS' chief research officer. "Instead, we saw some structural deficiencies on the right side that still need addressing."
IIHS says Toyota began making changes to the Sienna's structure in 2015, resulting in improved protection for the driver side. However, it didn't make the same modifications on the passenger side.
Problems on the passenger side
As a result, IIHS says the Sienna's structure rates poor in the passenger-side test.
"A safety cage must be strong enough to resist intrusion in a crash to protect the people inside, no matter where they sit in the vehicle," Zuby said.
In the case of the Sienna, the IIHS tests found objects hitting the passenger side intruded as much as 20 inches into the lower occupant compartment and more than 16 inches at the dashboard.
IIHS says the Pacifica also had issues on the front passenger side but that sensors from the crash dummies suggested a low risk of injury, helping to offset its less than perfect structural rating.