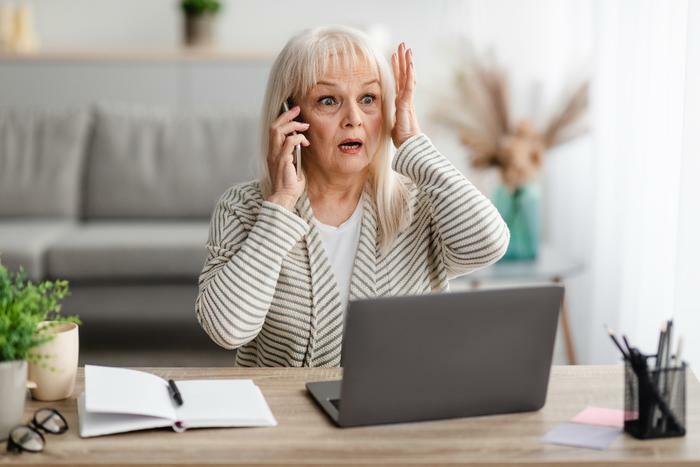 Grandparent scams are back in the news. On Tuesday, acting U.S. Attorney Bridget M. Brennan announced that two Tampa, Florida, men have been sentenced for targeting elderly consumers in northern Ohio. Officials say the men fleeced victims for a total of $383,932.
Like most other grandparent scams, this one had a cash component. Officials say the defendants would allegedly call senior citizens and pretend to be a relative or an attorney for a relative and claim that the family member had been arrested and needed money for bail.
Once the victim took the bait, officials said the scammers would arrange to collect the money through a purported "courier." Of course, that person was just one of the perpetrators of the scam.
The scam that won't go away
The grandparent scam isn't easy to squash, particularly because it pulls on the heartstrings of someone who wants to come to the rescue of a family member. In a late 2019 report to Congress, the Federal Trade Commission (FTC) said it received 256,404 fraud complaints in 2018 from consumers who were at least 60 years old, accounting for nearly $400 million in losses.
The "bail money" version isn't anything new, but there are always creative crooks who think they've found a new angle -- like COVID-19 -- that might fly under the radar.
Scammers are now turning to social media to fuel their schemes because there are countless people who bare their souls on platforms like Facebook. Fraudsters take all that information and then use it to build a scenario the victim might fall for.
Many people never take the time to review what kind of identity information they're leaving open for others to glean on social media. Unfortunately, Facebook doesn't put those settings out in front like it does with "About," "Friends," and "Add to Story," but if you add "/settings" to the Facebook URL so that it reads "https://www.facebook.com/settings," you'll find everything you're allowing others to access and view. Take a good look at that and ask yourself why anyone really needs that information, then turn it on or off.
If you want something simpler, the Electronic Frontier Foundation suggests using a one-click privacy setting to retroactively change all your past posts to be visible to your friends only. 
Know someone 60 or over or someone who's been scammed?
If anyone knows someone aged 60 or older, make sure they know about the grandparent scheme. It might just help them avoid becoming a victim down the line.
If you know someone who has been a victim of financial fraud, help is standing by at the National Elder Fraud Hotline. You can reach it by dialing 1-833-FRAUD-11 (1-833-372-8311).
Reporting a scam can help authorities identify those who commit fraud, and reporting certain financial losses due to fraud as soon as possible can increase the likelihood of recovering losses. The fraud hotline is staffed seven days a week from 6:00 a.m. to 11:00 p.m. (EST).