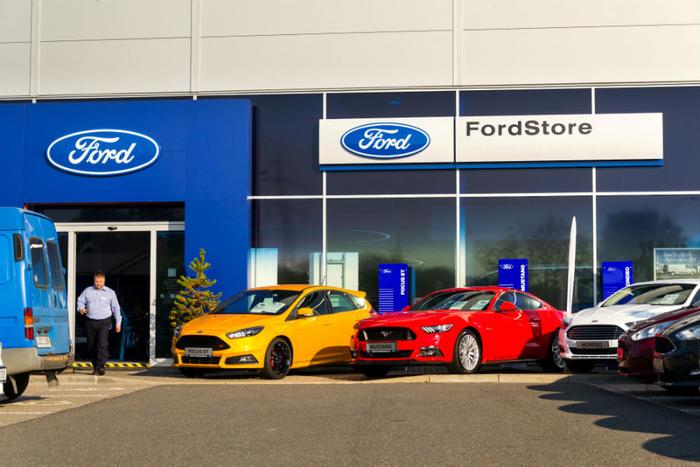 Ford has confirmed that it is trimming its workforce amid concerns that consumers will not purchase as many new cars and trucks as in years past.
At the same time, Toyota is increasing its investment in U.S. manufacturing, in part because of concerns about U.S. tariffs.
A spokesman for Ford has told Reuters that it is eliminating an undetermined number of mostly salaried jobs in the U.S., following through on plans it announced last year. Ford last year announced a significant reorganization that it said would result in a reduction in payroll.
After reporting that Trump administration tariffs were cutting into profits, Ford announced in October that it would eliminate an unspecified number of people in its global workforce, many of them management employees based in the U.S. Investment bank Morgan Stanley estimated the layoffs at about 12 percent of Ford's global workforce.
Ford's September sales were sharply lower, but so were results for most other automakers. September 2017 sales were abnormally high because so many vehicles had to be replaced after Hurricane Harvey. September 2018 sales suffered in comparison. Ford's total vehicle sales last month were down nearly 12 percent year-over-year.
Selling more expensive vehicles
Ford said its overall average transaction price increased $1,500 for September, expanding more than twice the rate of the overall industry average.
Ford has been trimming its sales ever since. In February, the automaker announced it is closing a factory in Brazil and would exit the commercial truck business in South America. Those moves alone could reduce Ford's payroll by 2,700 jobs.
Because of lackluster sales in 2018, Ford may look at other options for trimming overhead, including the closing of some unprofitable plants in Europe.
Toyota moving in the opposite direction
While Ford is cutting back Toyota is expanding, at least in the U.S. The Japanese automaker says it's increasing its budget for U.S. manufacturing from $10 billion to 13 billion over five years.
The company is adding the Toyota RAV4 Hybrid, the best-selling SUV in the U.S., and Lexus ES 300h hybrid vehicle production at its Georgetown, Kentucky, manufacturing plant; expanding engine capacity at its Huntsville, Alabama, facility; doubling hybrid transaxle capacity at its plant in Buffalo, West Virginia; and a building expansion for additional castings at Bodine Aluminum's Jackson, Tennessee, facility as well as additional castings at its Troy, Missouri, facility.
"These latest investments represent even more examples of our long-term commitment to build where we sell," said Jim Lentz, chief executive officer for Toyota Motor North America. "By boosting our U.S. manufacturing footprint, we can better serve our customers and dealers and position our manufacturing plants for future success with more domestic capacity."
Over the last 30 years, Toyota says it has produced more than 25 million vehicles in the U.S.