---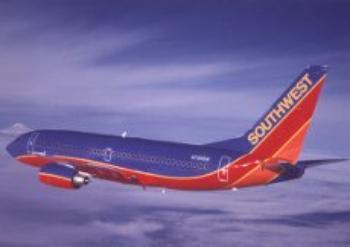 Bags fly free on Southwest and now TV does too. In a deal with Dish Network, Southwest is offering free Wi-Fi and TV programming on its flights. It had been charging $5 for live TV.
Other airlines have installed heavy, heat-generating equipment on their aircraft to provide entertainment on seatback screens. Southwest's solution is to provide the Wi-Fi and the programming and let customers bring their own iPads and laptops.
Southwest's TV service includes local stations from New York, Bravo, Fox News and NFL Network as well as 75 on-demand shows on the airline's more than 400 Wi-Fi-enabled aircraft.
Live TV on-board began 13 years ago, when DirecTV began offering service on JetBlue, where it remains free. In contrast, United has DirecTV free in first class when available, but up to $7.99 in the economy section.
"DISH and Southwest are two iconic American brands known for putting the customer first, providing products, services and experiences they truly demand," said DISH President and CEO Joe Clayton. "It's only logical our two companies should team up to give passengers free live TV and on-demand shows on flights around the country."
"Southwest Airlines continues to innovate and evolve our on-board Customer experience," said Kevin Krone, Chief Marketing Officer at Southwest Airlines. "We started with Wi-Fi and now have expanded to television. This new offer puts free television in the hands of our Customers. Just one more way Southwest offers more value at 37,000 feet."
---