---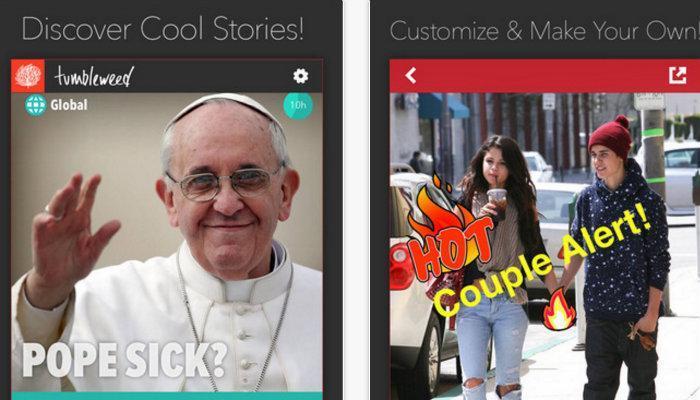 You'd be more likely to spot a unicorn than a Millennial behind a newspaper. Let's face it, if it's not 140 characters or less, or sprinkled into a social media feed, news becomes far less likely to reach this generation.
That's not to say that this demographic goes newsless.
According to research conducted by the Media Insight Project, 82% of Millennials get their news from online sources and 85% say keeping up with the news is at least somewhat important to them. It's just that they don't often go directly to news providers.
News on­ the ­go
Enter, Tumbleweed: a mobile news app geared specifically towards Millennials that features curated, credible news that you can edit and share. Inside the app, you'll find a stream of bite-­sized news stories all divided into categories such as global, sports, technology, and entertainment. It's simple, almost effortlessly consumed, and visually appealing to boot.
"The worry," say the authors of the study 'How Millennials Get News', "is that Millennials' awareness of the world is narrow, their discovery of events is incidental and passive, and that news is just one of many random elements in a social feed." Tumbleweed seems just the ticket to assuage this worry.
Relevant and interesting to young adults
An app that feels like the lovechild of Instagram and Gawker, Tumbleweed is, well . . . #winning.
"We've created THE place for Millennials to find credible, relevant news that can then be customized and shared to create a conversation; a tool to spread knowledge and information in a new and fun way," says co-­founder Cisco Adler.
With headline titles ranging from "KFC and Chill" to "Obama Speaks on Paris Attacks," it's a newsfeed that is a refreshing mix of fun and informative. The feed updates frequently, and at the top right of the picture accompanying each story, you'll see a number indicating how long until the story "expires" and drops off your feed.
Tiny bits of news
On the flip side of the app's concise nature, however, is the obvious fact that if one or two lines of a story is not enough for you, you will have to go elsewhere. Tumbleweed is more of a bird's­ eye view than a comprehensive look at the day's popular news stories.
Nonetheless, Tumbleweed is a beneficial app for the generation short on both time and attention spans.
The app is now available for free download in the App Store.
---