---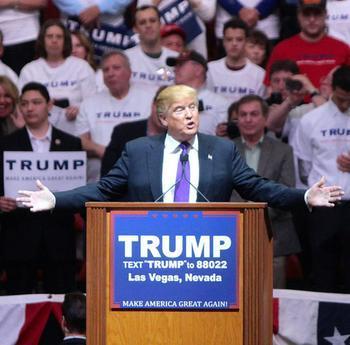 In the depths of the presidential campaign, marketing analysts said that Trump the candidate was doing a lot of damage to Trump the brand and that Donald Trump's hotels, golf clubs, neckties, and other consumer goods were feeling the heat.
But now that it's the morning after, things are looking a little different. A post-Election Day, overnight national survey conducted by Brand Keys, the New York-based brand engagement and customer loyalty research consultancy, revealed that in each of the seven categories Brand Keys has been tracking, the Trump brand has rebounded to levels seen just prior to the April 2015 announcement of his candidacy.
""Mr. Trump has been one of the most powerful brands we''ve ever tracked,"" said Robert Passikoff, Brand Keys founder and president. ""You could add his name to anything from ties to buildings and the increased perceived value of the products fell into the 20% to 37% range. Which was very high, enviable by any category or brand standards, and what a brand is supposed to do. Now, I suppose, he literally qualifies as 'the most powerful brand in the world'.""
Blurred the lines
The Trump brand took a beating as campaign rhetoric heated up. Things worsened when a videotape was released that captured Trump making lewd comments about women.
"That didn't totally surprise or alarm us,"" Passikoff said. ""In becoming a candidate Mr. Trump changed both the brand paradigm regarding consumer expectations and values surrounding the Trump brand and also blurred the traditional lines regarding where the 'Trump brand' was expected to compete."
Passikoff said that human brands -- brands built around living people -- are powerful but can be damaged by the actions of their namesakes. They "don''t usually come back as strong as they used to be" after an incident like the videotape release, he said.
"Think about what happened to Martha Stewart or Tiger Woods. Their brands survived but they never came back as strong as they were before the brand imploded –after they went to jail or were forced to do a PGA Adultery walk-of-shame, for example,"" noted Passikoff.
""Human brands don''t generally get a second chance to breathe real life back into their brands or rekindle the desire in the hearts and souls of consumers. Not at their former brand strength, added-value levels, at least," Passikoff said. "But apparently winning a presidential election is the exception that tests the rule."
Study details
According to 1,203 registered voters in the nine US Census regions, 100% of the categories where Brand Keys has tracked the Trump brand that had been negatively affected a month ago with the Access Hollywood tape disclosure have rebounded to pre-candidacy added-value brand levels.
Added-value related to the Trump brand --– that is, how much more a product or service is seen to better meet consumer expectations and be seen to be worth more monetarily with the Trump brand --– is back up significantly from a month ago in each of the seven categories where Brand Keys has historically tracked the Trump brand.
In some categories the added-value brand numbers are the highest Brand Keys has ever tracked for the brand.
---