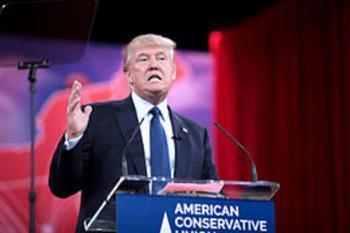 Donald Trump, the presumptive Republican presidential nominee, isn't one to remain a prisoner of a previous position he's taken. So it is with taxes.
Interviewed Sunday on ABC's "This Week," Trump said taxes would go down for everyone over the long term. But to get to that point, Trump said they would need to go up, especially on top income producers.
"I am willing to pay more," Trump told ABC's George Stephanopolous. "And you know what? The wealthy are willing to pay more. We've had a very good run."
It should be noted that President Obama has made similar remarks on a number of occasions, and Trump's departure from what has been GOP orthodoxy undoubtedly gave party elites – already in shock over Trump's unlikely rise to the top of a 17-candidate field – massive headaches.
A top tax bracket of 25%
Consider that back in September, Trump outlined a tax proposal that called for dropping the tax rate for everyone. For the top tax bracket, now paying 39.6%, the businessman proposed lowering it to 25%.
Various statisticians calculated the result would be even higher deficits. The Tax Policy Center, which professes not to have a dog in this fight, concluded that the Trump plan would add nearly $10 trillion to the national debt over 10 years.
While saying top earners should pay more, Trump said he would hold the line on his proposed cuts for middle income wage earners.
Conservative revolt
Conservative leaders, many of whom have been part of the #NeverTrump movement, were quick to respond. Bill Kristol, editor of the conservative Weekly Standard, went on CNBC's "Squawk Box" Monday morning to voice opposition to a possible Trump presidency.
He confirmed that he has talked with 2012 GOP nominee Mitt Romney about a potential third-party candidacy, to give conservative voters a choice between Trump and presumptive Democratic nominee Hillary Clinton.
According to Clinton's web site, her economic plan calls for giving "working families a raise, and tax relief that helps them manage rising costs." At the same time, her tax policy would " close corporate tax loopholes and make the most fortunate pay their fair share."
While the devil is in the details, at first glance at least, it would appear Trump and Clinton aren't too far apart on ideas about taxes. However, Trump's website Monday morning still showed his highest proposed tax bracket at 25%.
His plan would also eliminate all federal income tax on single taxpayers earning less than $25,000 and married couples, filing jointly, who earn less than $50,000.