The North American continent offers every kind of spectacular natural landscape, and nature lovers find many ways to experience it – from motor homes to pitched tents.
Now, some adventurous travelers are setting their sights a little higher and opting to rent an actual treehouse for a night or a weekend.
You'll find these elevated tiny houses all over the country, some owned by individual landlords and some by companies that manage dozens of tree-top dwellings. Several can be booked through Airbnb.
Most treehouses are fairly rustic, modeled after traditional campground cabins. Others have some of the amenities you might find in a hotel, with a rate to match.
The Birdie Treehouse
The Birdie Treehouse in Maine is for travelers who enjoy a rustic, no-frills experience. There is no running water and no bedding, so you'll need to bring your own.
It also lacks electricity, although it does have a 12-volt lighting system, similar to the kind you'd find on a boat.
It sleeps four people, has a loft with two ottomans that fold out into single beds, and a full size futon on the main floor for additional sleeping space. Naturally, there is no bathroom in the treehouse but the property's description says there is an outhouse "close by."
Eagle's Nest Treehouse
The Eagle's Nest Treehouse Farm Stay, located near San Francisco, is in the middle of old growth redwoods, providing a spectacuar natural setting. However, guests really don't have to rough it.
Located on a working ranch on the Sonoma coast, the Eagle's Nest is just an hour and a half drive from San Francisco and is close to some of California's most famous vineyards.
The treehouse, written up in a 1990s issue of House & Garden Magazine, features many creative design touches. You can check it out in the brief video tour below.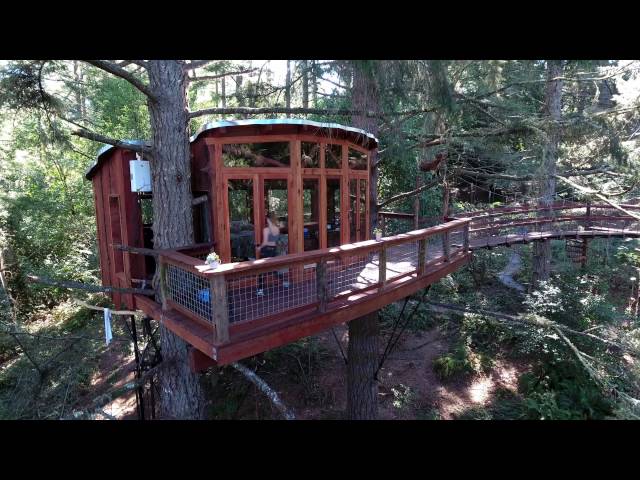 Recent renovations include two sets of French doors, sliding windows, and insulated walls. Amenities include a queen sized bed, propane heater, battery-powered electricity for lights and low wattage accessories.
The treehouse also has a separate bathroom with flush toilet, hot and cold water, sink, and a copper-lined shower with floor to ceiling windows looking out on the forest below. As an added perk, guests are free to roam the ranch grounds and can learn about sustainable organic farming practices.
Ojai Mountaintop Treehouse
As its name suggests, the Ojai Mountaintop Treehouse sits on 40 acres atop a mountain just 20 minutes from Ojai, California. It offers ocean and channel island views, access to adventurous hiking and biking trails, and at night, a starlit sky.
Despite its proximity to Ojai's boutique shops, restaurants, and wineries, the newly-built treehouse offers plenty of privacy as a secluded, peaceful getaway. Chances are, you won't see that many people while you're there.
The treehouse itself consists of one large, open room. There are no beds, but there's plenty of room for four adults with sleeping bags. There are tables and chairs, a porta potty, and a hammock.
Cooking is limited to a small propane stove. Because of the year-round dry conditions, no open flames are allowed.
The editors at InspiredCamping.com have tried to identify the reason for the boom treehouse camping. Their hypothesis is that travelers seem to find a connection to their childhood, and even those who don't much like earthbound camping seem to get a thrill from sleeping in the treetops.