---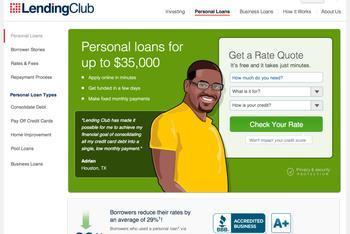 The U.S. Treasury Department sees risks and rewards in the fast-growing online loan business. It can be a lot easier to get a loan online than to go through the sometimes frustrating process of dealing with a bank, but in a white paper, the department notes that there are fewer consumer protections for online borrowers than for those who deal with more traditional lenders.
Treasury said it received opinions from about 100 industry and consumer stakeholders earlier this year and based its white paper largely on that input.
The white paper notes that online lenders increasingly use algorithms that rely on massive databases of information on consumers and businesses, streamlining the time needed to evaluate loan applicants. It found both pluses and minuses in the practice, which bypasses the credit scores relied on by more traditional lenders.
"While data-driven algorithms may expedite credit assessments and reduce costs, they also carry the risk of disparate impact in credit outcomes and the potential for fair lending violations. Importantly, applicants do not have the opportunity to check and correct data potentially being used in underwriting decisions," the document notes.
Surprise ouster
The online lending industry took a hit recently with the surprise ouster of Lending Club CEO Renaud Leplanche. He was fired Monday by the company's board of directors because of what were said to be problems with the firm's lending practices and an undisclosed issue with a personal investment.
Lending Club pioneered data-driven lending and is the leader in the field. It and similar firms bypass banking laws by relying on investors to fund loans. They might be called an Uber of the finance world -- as they basically act as a middleman between borrowers and lenders. 
Investors range from individuals who fund a few thousand dollars worth of loans to giant institutions that plop down millions to bankroll loans that meet specific criteria. 
Many smaller investors have flocked to the online lenders because they are able to earn 10 percent or even more instead of the paltry interest currently paid by banks and money market funds. 
Likewise, the interest rates charged to borrowers tend to be several points lower than those offered by credit cards and banks. Consumers also like being able to apply for loans without having it show up on their credit score.
Expanded access
Indeed, online lending is expanding access to credit among those who might have problems qualifying for regular loans and, the paper suggests, some of the technology now being used online could be adapted for traditional lenders as well.
But caution is called for since the online lending business has not yet been tested in a time of tight credit, the paper suggests:
"New business models and underwriting tools have been developed in a period of very low interest rates, declining unemployment, and strong overall credit conditions. However, this industry remains untested through a complete credit cycle. Higher charge off and delinquency rates for recent vintage consumer loans may augur increased concern if and when credit conditions deteriorate."
The department said it would be willing to work with Congress to develop additional safeguards for consumers and small businesses.
---
Editor's note: The author is an investor in Prosper, an online lender.
---