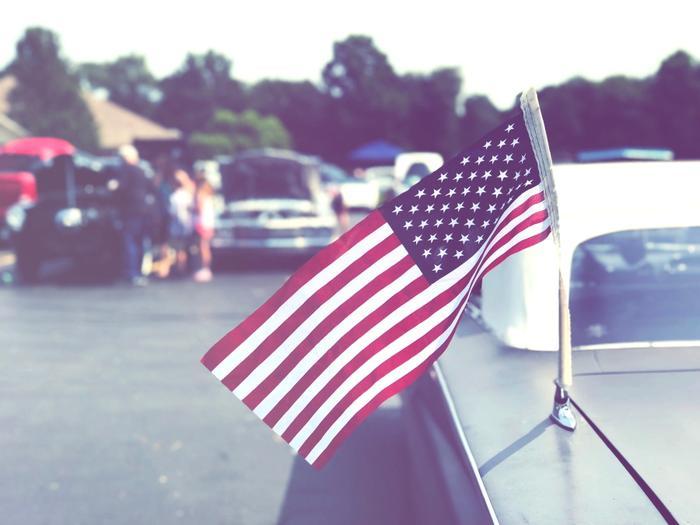 Despite having one less day to celebrate the Fourth of July, Americans will be hitting the nation's highways and byways in record numbers.
The American Automobile Association (AAA) expects 41.4 million motorists will be traveling between Wednesday, July 3 to Sunday, July 7 -- the most ever -- plus another 3.55 million on trains, boats, and planes.
With unemployment low, spending growth up (meaning more money spent on cookouts and picnics), and gas prices down over last year, the nation's economic climate makes motoring a good deal this summer. 
"Gas prices are, on average, 17 cents cheaper than Memorial Day weekend, which is welcome news for motorists hitting the road to celebrate the July Fourth holiday," said AAA gas price expert Jeanette Casselano. "More so, summer gas prices are poised to continue dropping even lower in coming weeks."
Expect standstills and a snail's pace
Of course, with 40 million folks getting out of town or traveling through a large city, that means traffic snarls and delays.
AAA's research gurus took a dive into what the best days to travel ad how long of a delay motorists can expect over the Fourth of July weekend. Here's what they found:
| | | | |
| --- | --- | --- | --- |
| Region | Worst Day for Travel | Worst Time for Travel | Delay Multiplier |
| Atlanta | Friday, July 5 | 5:00 – 7:00 PM | 2.5x |
| Boston | Friday, July 5 | 10:00 AM – 12:00 PM | 3.4x |
| Chicago | Friday, July 5 | 1:00 – 3:00 PM | 2x |
| Detroit | Wednesday, July 3 | 2:00 – 4:00 PM | 2x |
| Houston | Thursday, July 4 | 1:00 – 3:00 PM | 3x |
| Los Angeles | Wednesday, July 3 | 11:30 AM – 1:30 PM | 2.7x |
| New York | Wednesday, July 3 | 1:45 – 3:45 PM | 3.8x |
| San Francisco | Wednesday, July 3 | 1:30 – 2:30 PM | 2.5x |
| Seattle | Thursday, July 4 | 12:00 – 2:00 PM | 3x |
| Washington, DC | Sunday, July 7 | 10:30 AM – 12:30 PM | 2.4x |
What about flights and hotels?
While motorists get a nice kiss from lower gas prices, consumers shouldn't expect the same across the board.
According to AAA's Leisure Travel Index, airfares are running about 10 percent higher than a year ago. For car rentals, the average rate is 5 percent higher (an average of $69/day). As for accomodations, Trivago's hotel price index shows that hotel prices vary by location. 
For example, overnight rates in Miami, Las Vegas, and New York City are trending down (month-to-month through June 2019), while the cost of spending the night in Chicago and San Francisco is up.
One last thing...
Holiday travel almost always leverages traffic accidents and fatalities -- many the result of drinking and driving at the hands of those who think they can manage operate a vehicle under the influence.
According to Niznik Behavioral Health's (FARS) research team, the five-year highway safety trend shows that drivers are throwing caution to the wind a little too much during their Fourth of July jaunts. 
The group's findings show that:
Summer holidays are the deadliest for drivers, with the Fourth of July having the largest percent of monthly fatalities (15 percent);

July 4th averages 472.2 fatalities with 189.8 involving alcohol -- nearly twice the deaths of New Year's Eve and New Year's Day; and

Almost 36 percent of holiday-related fatal crashes involving alcohol occurred on July 4th.
Mind you, Niznik's numbers are for the entire U.S. But there are states where extra caution should be applied. Missouri, South Carolina, and Wyoming are considered to be the "most dangerous" on Niznik's "holiday drinking and driving deadliness" list. And the "least dangerous" states? New Hampshire, New York, and Delaware.