---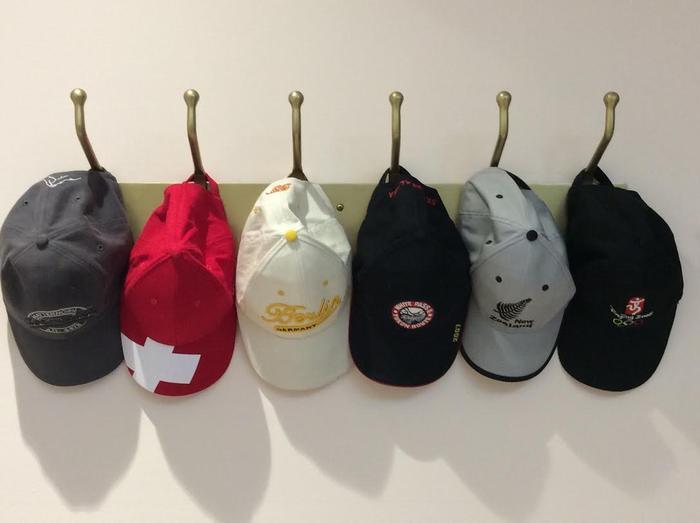 Each morning my spouse decides where he'll have coffee. This morning it was Lucerne, Switzerland, yesterday it was Ghent, Belgium, and tomorrow, maybe Times Square in Manhattan.
He's not traveling, but making a selection from the collection of Starbucks mugs he's brought home from his travels. This isn't his only collection. He wears a baseball cap to protect himself from the sun each day and he buys them at every destination.  It's not only a happy reminder, but a great conversation starter.
My spouse isn't the only one in our household who enjoys souvenir shopping. While I have brought home my share of artwork, decorative items, and jewelry, the items that bring me the most joy are the smaller ones I use every day, like my wallet. I bought it on the island of Bellagio on Lake Como. Every time I use it I'm reminded of a picture-perfect sunny day, wandering the streets and alleys of this charming island. While I'm extracting a credit card, I might remember how much fun it was to practice my limited Italian or how hard it was to choose a flavor of delicious gelato.  
It's fun to seek out the everyday items we use as travel souvenirs. They become frequent reminders of relaxed days, new experiences, and faraway places.
What can you purchase?
Annual calendars are a great memento of destinations you've visited. Last year I bought one from the Chihuly Garden and Glass in Seattle, and next year I will be using one from my trip to Yellowstone and Grand Teton National Parks.
Bookmarks are sold most often in museum gift shops and bookstores. They are perennial favorites of mine and I take the time to look through them all when starting a book.
Wallets and small leather items, such as gloves, business card holders, and belts are both useful and pack well.
Scarfs can be unique to your destination, useful, and reasonable. The pashminas I buy abroad are distinctive and often higher quality than those I find at home.
Fun items
Mugs can be fun items. Obviously you can use them for coffee and tea, but they are also great for storing pens, markers, cosmetic brushes, artist supplies, and anything requiring vertical storage.
Serving pieces made from unique materials are also a great find. I've found useful ones in olive wood, stainless, china, and pewter. They're easy to pack and delightful to use.
Cocktail napkins are useful and I enjoy the wonderful ones I find in my travels. They are the same price that I would pay at home but with distinctive motifs.
I love my heavy duty beverage glasses, one a gift from my daughter from her travels and the other from my Alaskan trip. When one broke I replaced it with one from an inn at Yellowstone.
Most of my table linens come from faraway places. Each week I choose a different table runner, maybe one from Provence, or Orvieto, or maybe Tallinn. I find you can never have too many placemats and they are so easy to pack.
Lastly, I bring home note pads. I constantly replenish my stack and use them daily.
Avoid buying souvenirs that will languish in a drawer or closet. Instead, find things you will use often so each time you see or handle it, it will trigger a memory, a smile, and warm your heart. That's what travel is all about.
---