---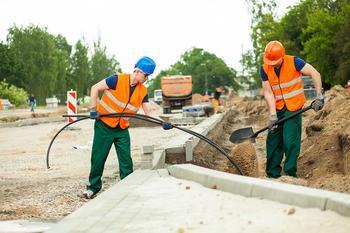 Every new administration says it will get America moving again. The incoming Trump Administration may mean it literally -- transportation and "infrastructure" projects are thought to be high on Trump's to-do list.
While nearly everyone is in favor of shoring up the nation's aging highways, bridges, tunnels, and so forth, there has been little progress in recent years in figuring out how to pay for it. With the GOP soon to be controlling both houses of Congress and the White House, it just may be possible to get America inching along again, assuming Republicans can be coerced into spending the billions it will take to get anything done.
The traditional approach is to raise the gasoline tax and find additional "revenue sources" (meaning taxes and fees). Trump has promised to find more innovative financing, possibly including the public-private partnerships that have been used to build new toll lanes on the Virginia side of the Potomac River.
Virginia has over the last few years built toll "express" lanes in the D.C. area that are free for car pools but charge everyone else a few bucks. Those willing to pay up zip along at 60 or 70 while those in the adjacent free lanes do the Beltway Crawl, a mode of transportation more akin to parking than driving.
The new lanes were built by private corporations with names like TransUrban. The companies put up the money -- no Virginia tax funds were used -- in exchange for getting the lion's share of the toll revenue for the next several decades.
Reports around D.C. today are mentioning the name Shirley Ybarra as a likely Trump appointee to head up transportation projects. A former Virginia transportation secretary, Ybarra wrote the state law that authorizes the public-private projects. 
Trump has also pledged to use tax breaks to raise up to $1 trillion to finance infrastructure projects. Combined with funds from public-private ventures, that could supposedly generate most of the funding for big-ticket projects without raiding the federal coffers.
Above it all
U.S. airlines have also been quick to jump on Trump's promise to put American interests first. They define that as blocking further expansion into the United States by Middle East airlines like Etihad and Qatar that they allege are unfairly funded by their governments.
"We are optimistic that the Trump administration will stand up to the United Arab Emirates and Qatar, enforce our trade agreements and fight for American jobs," said Jill Zuckman, a spokesperson for the airline-backed advocacy group Partnership for Open and Fair Skies. 
The Airline Pilots Association, meanwhile, is hoping the Trump White House builds a wall to block Norwegian Air Shuttle. The pilots say Norwegian is using smoke-and-mirrors to use low-paid, non-union crews that let it compete unfairly with U.S. carriers. 
Whether all of this is pro-consumer depends on your point of view. The D.C. toll express lanes have been derided as "lobbyist lanes" but are generally regarded as successful at their stated goal of reducing congestion. Even those who stay in the slower, free lanes benefit because they're not competing for space with those who shell out a few bucks to drive in the fast lane.
Protecting domestic airlines against foreign competition could be a minus for consumers if it results in fewer bargain fares, but many would argue that the jobs created and protected by such measures more than make up for travelers having to cough up a little more for their vacations or business trips. 
Anyway you look at it, Washington's K Street is abuzz as lobbyists marvel at the notion that the logjam that has paralyzed Congress for years may at last be broken, at least for a little while.
The next election is only two years away, after all, and the party in power generally loses seats in off-year elections, so the pressure is on to strike while the iron is hot. 
Thanks
Keep an eye on your inbox, the lastest consumer news is on it's way!
Unsubscribe easily whenever you want
---