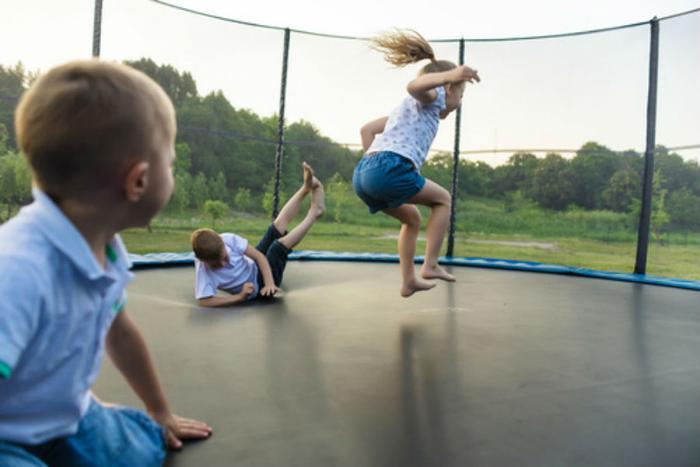 Letting your kids burn off energy by bouncing on a trampoline may seem like a good idea, but doctors say otherwise. Even backyard trampolines with netting around the outside pose a serious safety risk to children, experts caution.
"Trampolines are a prime culprit in thousands of emergency department visits each year," says Dr. Monica Kogan, Midwest Orthopaedics at Rush pediatric orthopedic surgeon. "They should not be regarded as a toy."
The American Academy of Pediatrics (AAP) concurs with Kogan. In an effort to avoid all preventable injuries, the organization strongly recommends against the use of home trampolines and against the use of trampolines by kids.
Long-time concern
Concern over the safety of recreational home trampolines isn't new. Doctors have long been concerned about trampolines, as well as indoor trampoline parks, as studies show trampolines have caused a staggering number of injuries -- mostly to children under sixteen.
Researchers at Indiana University found that between 2002-2011, trampoline-related accidents sent more than 288,000 people to hospital emergency rooms with injuries, leading to a total treatment cost of more than $1 billion.
In response to the study, the International Association of Trampoline Parks (IATP) issued a statement pointing out that the researchers measured numbers rather than percentages. The increase in the number of injuries over the course of four years aligned with the growth of the industry in general, the trade group said.
Adult supervision crucial
The IATP contends that trampoline jumping is safe when participants know what they're doing, are closely supervised, and are using safe equipment in a padded environment.
By contrast, Dr. Kogan says she doesn't allow her own children to play on trampolines, even with netting, and agrees with the AAP that trampolines should only be used in gymnastics training or diving.
While some believe the AAP advice is too conservative, parents should, at the very least, supervise children when they are jumping on a trampoline. Additionally, it's best to only allow one child on the trampoline at a time, since most trampoline injuries occur when two or more people are jumping at the same time.