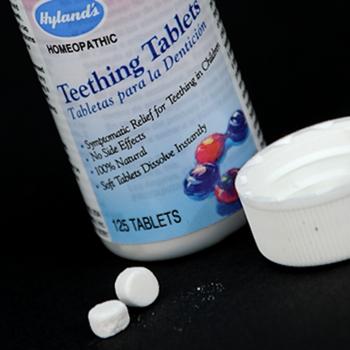 For years, medical professionals have cautioned against using medications to alleviate pain for teething babies, but that hasn't stopped an onslaught of supposed cures for the pain from hitting store shelves.
Complaints about teething medicine from Hyland's -- one of the nation's largest homeopathic businesses -- began in 2006. Reports submitted to regulators linked sudden injuries to the company's over-the-counter teething gels or tablets, with parents describing how the medications turned their babies blue and required medical attention.
The FDA issued an advisory about the gel in 2010, but it received little attention. By the time the FDA issued another public warning about Hyland's teething products, in September 2016, ten years had passed since parents first reported potential side effects. The agency had received more than 370 adverse event reports about the products in that time.
Eight of the reports described deaths, as STAT News reportedearlier this year, raising the question of why regulators didn't act faster.
Citing the warning that it issued last year about Hyland's products (though omitting criticisms it received about enforcement lag-time), the FDA is now promising to rethink its approach to homeopathic medicine as a whole.
FDA Commissioner Dr. Scott Gottlieb noted that homeopathic medicines have falsely promised to cure cancer, while others, like homeopathic teething gel, have been linked to dangerous side effects.
"Our approach to regulating homeopathic drugs must evolve to reflect the current complexity of the market, by taking a more risk-based approach to enforcement," he said in a press release announcing a plan to better regulate homeopathic cures.
The specifics of the enforcement plan are still being worked out, but the FDA says a "task force" of stakeholders will help them decide on the approach.
Tackling false promises and dangerous ingredients
Though homeopathy is often conflated with all varieties of "natural" or "alternative" medicine, the FDA clarifies that its new, proposed enforcement action will be limited to products that are linked to adverse events or that make false promises about curing deadly diseases.
"Homeopathic drug products are a very specific kind of product and does not encompass all 'alternative therapies," agency spokesman Lyndsay Meyer tells Consumer Affairs via email.
Homeopathy is literally defined as the treatment of an illness with a minuscule dose of a natural product that would be toxic or harmful to healthy people. The FDA currently does not regulate homeopathic products for safety or effectiveness, though some researchers argue that doing so would benefit consumers.
"I am in favor of the FDA actually funding medical trials in showing whether homeopathic treatments work or not. Those are not there," Dr. Rafael Guerrero-Preston, a medical geneticist in Baltimore, tells ConsumerAffairs.
In the case of homeopathic baby teething products, the FDA traced the deaths and other injuries to the active ingredient belladonna, a highly toxic plant colloquially referred to as "deadly nightshade".
As the complaints about Hyland's products mounted, the FDA measured levels of belladonna in the company's teething gel and said that the levels of the product were not distributed uniformly, meaning that some babies could be getting dangerously high doses of the plant.
Hyland's initially disputed the FDA's findings, but changed course earlier this year, agreeing to recall its baby teething gels over the safety warnings.  The company, however, has not publicly confirmed whether or not it believes its products were linked to the deaths, instead blaming their decision to recall the gel on "confusion" created by the FDA.
"This warning has created confusion among parents and limited access to the medicines," Hyland's writes on its website. "Therefore, we have made the difficult decision to discontinue distribution of Hyland's teething medicines in the United States."
Products pulled from store shelves, but dangers remain
The reported side effects also prompted retailer CVS to stop carrying all homeopathic baby gels. That was followed with a recall last summer of homeopathic teething gel marketed by Raritan Pharmaceuticals, which the FDA also found contained potentially dangerous levels of belladonna.
But the recalls don't mean that the soothing gels or tablets still available on store shelves are necessarily a safe choice. In past years, the FDA has also issued warnings about traditional baby teething medications, including products marketed by well-known brands such as Orajel.
Benzocaine, the active ingredient in many traditional baby teething gels, has been linked to a dangerous condition called methemoglobinemia in children aged two years or younger, the FDA reported in 2011. "Benzocaine products should not be used on children less than two years of age," the agency said at the time.
But Orajel continues to sell baby teething gel that contains benzocaine as the active ingredient. The brand's parent company Church & Dwight did not return an inquiry from ConsumerAffairs.
A more 'natural' solution
If both homeopathic and mainstream teething remedies can cause harmful side effects, what is a parent to do?
Health professionals say that parents should avoid treating their teething babies with medication, unless specifically advised to do so by a doctor. Otherwise, they have an even more "natural" cure that they say should work better: a wet washcloth.
"Teething is a normal phenomenon; all babies teethe," Dr. Ethan Hausman, a pediatrician and pathologist, said in a notice put out by the FDA in 2014. "FDA does not recommend any sort of drug, herbal or homeopathic medication or therapy for teething in children."