---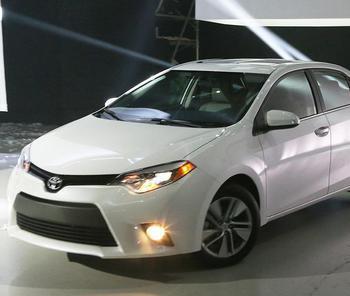 Cars are expensive, so besides finding a model that's safe and gets good fuel economy, it's important to find one that will hold the highest percentage of its original value.
And for the 2014 models, Toyota is most likely to do the best job of value retention over the first five years, according to Kelley Blue Book.
Toyota's 60-month average residual value improved 2.1 percentage points from last year to 46.1 percent, expressed as a percentage of the manufacturer's suggested retail price (MSRP). With strength in its overall residual value average for 2014, this marks the third consecutive win for Toyota and fourth overall Best Resale Value: Brand win for the automaker since the inception of the Kelley Blue Book Best Resale Value Awards in 2003.
Subaru was less than one percentage point away from Toyota and was ranked second among non-luxury brands.
Toyota's more refined sibling, Lexus, improved nearly 2 percentage points to 45.6 percent retained value after five years, helping the luxury brand to keep its Best Resale Value: Luxury Brand title for the third consecutive year. Lexus outperformed its closest competitor, Audi, by more than 6 percentage points.
"Lexus' full lineup had 60-month residual values above its segment averages, except for the GS 450h," said Eric Ibara, director of residual value consulting for Kelley Blue Book. "Lexus dominates the luxury categories, placing one of its vehicles at the top of its segment six times; a feat none of its competitors can match."
Overall, 60-month residual values for all 2014 model-year vehicles averaged 39.7 percent. This represents an increase of 1.5 percentage points compared to the 2013 model-year averages from the same period last year.
Trucks do well, EVs not so well
For the 2014 model year, trucks continue to hold their value better than cars, with the average 60-month residual value across all trucks at 41.7 percent compared to the 37.8 percent average across all cars. Pickup truck segments, both mid-size and full-size, have the highest segment residual values after five years.
In contrast, pure electric vehicles like the Nissan Leaf and Ford Focus EV have not been in high demand by consumers who have enjoyed moderate fuel prices during the past 12 months. The federal tax credit available on these vehicles also depresses used-car values, which contributes to the Plug-In Vehicles segment's lowest average 60-month residual value at 28.7 percent.
---