---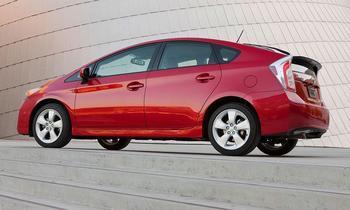 For the second year in a row, Consumer Reports has named the Toyota Prius the best overall value for the automotive dollar and the Nissan Armada the worst in its annual Best New-Car Value analysis.
The popular Prius has the right combination of performance, reliability and low estimated five-year ownership costs of 47 cents per mile, the magazine said. Last year, the Prius unseated the perennial best-value leader, the Honda Fit. The Fit had held the best new-car value title for the previous four years.
The Armada, a large SUV that gets only 13 mpg overall and scored poorly in Consumer Reports' annual reliability survey, costs a hefty $1.20 per mile, according to CR's analysis.
Toyota and Lexus models placed at the top in three of the 10 categories that Consumer Reports analyzed — with the Prius taking top overall ranking and emerging in first place in the Compact/Subcompact Cars category. The Toyota Avalon Hybrid Limited is the top-scoring vehicle in the Large Cars group and the Lexus ES 300h is the top model in the Luxury Cars category.
Vehicles from Subaru and Mazda were also standouts in the analysis; each automaker had vehicles that topped the rankings in two categories. The Subaru Legacy 2.5i Premium was the top-scoring vehicle in the Midsized Cars category and the Subaru Forester 2.5i Premium scored best among Small SUVs. The Mazda MX-5 Miata Grand ranked first overall in the Sports Cars/Convertibles category while the Mazda5 Grand Touring was best in the Wagons/Minivans group.
Best mpg
"The Prius' 44 mpg overall is the best fuel economy of any non-plug-in car that Consumer Reports has tested," said Consumer Reports Automotive Editor Rik Paul. "Though it's not particularly cheap to buy, the Prius' depreciation is so low that it costs less to own over the first five years than its initial MSRP. We call that a bargain."
Here's a look at the winners and losers in each of the categories:
Compact /Subcompact Cars: Best, Toyota Prius Four; Worst, Volkswagen Beetle 2.5L

Midsized Cars: Best, Subaru Legacy 2.5i Premium; Worst, Nissan Altima 3.5 SL

Large Cars: Best, Toyota Avalon Hybrid Limited; Worst, Ford Taurus Limited

Luxury Cars: Best, Lexus ES 300h; Worst, BMW 750Li

Sports Cars/Convertibles: Best: Mazda MX-5 Miata Grand Touring; Worst, Chevrolet Camaro convertible 2SS (V8)

Wagons/Minivans: Best, Mazda5 Grand Touring; Worst, Chrysler Town & Country Touring-L

Small SUVs: Best, Subaru Forester 2.5i Premium; Worst, Ford Escape SE (1.6T)

Midsized SUVs: Best, Nissan Murano SL; Worst, Jeep Wrangler Unlimited Sahara

Luxury/Large SUVs: Best, BMW X1 xDrive28i; Worst, Nissan Armada Platinum

Pickups: Best, Honda Ridgeline RTS; Worst, Ford F-250 Lariat (6.7L V8)
To learn more, visit: www.ConsumerReports.org or pick up the February Issue of Consumer Reports Magazine.
---